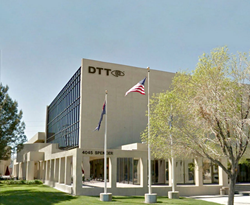 Savage brings vast, relevant experience leading technology teams and building systems that are critical for DTT
Los Angeles, CA (PRWEB) April 25, 2017
Leading surveillance and loss prevention provider DTT, announced today it has appointed William Savage, former CIO of Identiv and CTO of Brivo, as their Chief Information Officer (CIO). In this role, Savage will report to DTT President, Dan Pulskamp.
Based in Los Angeles, Savage and his team will be dedicated to managing all customer facing technology for the Company, including MyDTT™, CloudQuery™, hardware platforms and service offerings. In addition, Savage will oversee the product management organization and the company's customer facing technology road map.
"We are delighted to welcome Bill to our leadership team," said Dan Pulskamp, DTT president. "He brings vast, relevant experience leading technology teams and building systems that are critical for DTT to continue our growth and deliver value to our customers."
At Identiv, Bill was the CIO/CSO, responsible for Identiv's information technology, security systems and data centers. Additionally, as the CTO at Brivo Systems, he developed and implemented new SaaS environments for their products as well as new video platforms for the Company.
"I'm looking forward to working with DTT team to enhance and develop the customer facing technology and provide new modern and simple products" Savage said. "I am excited to join DTT at a time of major shifts in technology and consumer behavior."
About DTT
Headquartered in Las Vegas, Nevada, DTT provides digital video surveillance solutions to the hospitality and specialty retail industries. DTT was founded in 1999 by Sam Naficy, leveraging the power of emerging digital technology to support the needs of a broad base of clientele. Since first launched, DTT has equipped, serviced and supported more than 35,000 clients. Every day, software provided by DTT protects trillions of dollars in assets and oversees nearly 2 million employees. Some of the world's most popular and respected restaurant brands use DTT including McDonald's, SUBWAY®, Dairy Queen, Burger King, Taco Bell, KFC, Auntie Anne's, and Potbelly Sandwich Works, to name a few. Please visit http://www.dttusa.com for more information.