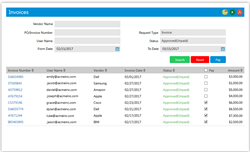 Los Altos, CA (PRWEB) April 25, 2017
Here's a look at some of the new features:
Categorizing Invoices
Categorize invoices based on their status: the solution places invoices into various buckets to help users find them easily. In addition, categorize by classes, account types, and department.
Approving Multiple Invoices
Approve or pay multiple invoices simultaneously with ease.
Configuration
SutiAP can be configured based on requirements. Easily create/update, enable/disable, and import/export roles & departments as needed.
External App Integration
SutiAP can easily integrate with external accounting system to make sending and receiving information simple.
For more information, please visit us at http://www.sutiap.com or call us on 650-969-SUTI.
About SutiSoft Inc
SutiSoft provides a comprehensive suite of cloud-based business platforms and solutions for companies of all sizes. These platforms include scalable and easy-to-use solutions for HR, Employee Travel & Expense, Wireless Spend Management, CRM, Document Management, Business Data Analytics, and Electronic signature. Our platforms and solutions enable small, mid-size, and large enterprise customers to control costs, save time and assist in making smart business decisions. Headquartered in Los Altos, California, SutiSoft also has regional offices in Germany, India, and Japan. For additional information visit our website at http://www.sutisoft.com.