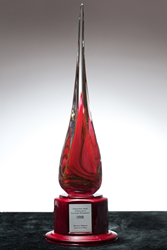 The award adds real value to winning wineries because BRIT is a neutral, third party conservation advocate to the wine industry.
Fort Worth, Texas (PRWEB) April 26, 2017
Come join the competition! The Botanical Research Institute of Texas announces that its 2018 sustainable winegrowing competition begins May 1, 2017. Competition applications can be downloaded from BRIT's web site at http://www.brit.org/wineaward.
Known simply as "The BRIT", the award – now in its eighth year – adds real value to winning wineries because BRIT is a neutral, third party conservation advocate to the wine industry that grades applicants on the continuous improvement of three legs of sustainability: environmental, social, and economic; as well as wine taste.
A growing number of international wine organizations such as the International Federation of Wine and Spirits (FIVS), the Italian Wine Union, Winemakers' Federation of Australia, New Zealand Winegrowers, Wines of South Africa, and the Wine Institute have recognized The BRIT as an excellent competition to spur further progress in sustainable winemaking practices.
Past winners have noted the award – the only international award of its kind – offers value to progressive, sustainably-focused organizations by acting as a metric of their progress towards their own sustainability-related goals, and as a marketing brand differentiator in a tight, volatile, and crowded marketplace.
As such, the BRIT attracts progressive and passionate wine organizations from around the world that employ innovative "ground to glass" socially and economically sustainable practices.
The competition begins May 1, 2017 and has a submission deadline of July 31, 2017. The winners will be selected and notified in January, 2018. Platinum, gold, silver, and bronze-level medals are awarded to top-placing wineries.
The competition's overall winner will be presented with BRIT's International Award of Excellence in Sustainable Winegrowing in Fort Worth in March, 2018, during the Fort Worth Food and Wine Festival.
The sustainable winegrowing application will be ready to download from BRIT's web site May 1st, is comprised of 18 high-level self-assessment questions focusing on the three tenants of sustainability: environmental, social, and economic aspects, plus a nineteenth subjective assessment – wine taste. The judging committee values a balance between all the criteria.
Applicants describe their organization's conservation efforts in the vineyard and in operations: how waste is avoided, how it is reclaimed, and how the winery extends conservation efforts to its customers. Practices established to maintain environmentally sound, socially responsible, and economically feasible winemaking principles are detailed. A bottle of wine must also be provided for a tasting by the judging committee.
International entrants may use their US distributors to forward their wine samples to BRIT or may use BRIT's consignee, La Cigale Wines of Fort Worth, Texas, to clear shipments and provide COLA Waivers. If wishing to use La Cigale Wines, please contact Edward Proctor, La Cigale Wines, at (817) 923-6747 or email, ed(at)lacigalewines(dot)com before shipping.
Previous award recipients include: Yealands Family Wines, (2017), Buzet (2016), LangeTwins Family Winery and Vineyards (2014), Yalumba (2013), Trefethen Family Vineyards (2012), Parducci Wine Cellars (2011), and HALL Wines (2010).
The 2018 Sustainable Winegrowing application may be downloaded at the BRIT web site, or click here: 2018 International Sustainable Winegrowing Application.