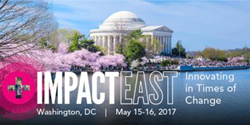 Causecast, a B Corporation based in Burbank, California, is convening their second annual conference for corporate giving and volunteering professionals who seek to transform and scale their social impact.
Burbank, CA (PRWEB) April 25, 2017
Causecast, a B Corporation based in Burbank, California, is convening their second annual conference for corporate giving and volunteering professionals who seek to transform and scale their social impact.
+IMPACT is hosted by Causecast, a SaaS technology provider of innovative workplace giving and volunteering solutions for visionary leaders who know that highly engaged employees are the engine for business growth and enduring social change.
The +IMPACT East 2017 theme is Innovating in Times of Change and will be held May 15 and 16 in Washington, D.C. The event is designed for practitioners responsible for areas including:

Corporate Social Responsibility and Social Impact
Employee Giving and Volunteering
Company-Wide Days of Service
Corporate Grants Management and Foundations
Employee Engagement
Diversity & Inclusion
Why now?
As management guru Peter Drucker said, "Culture eats strategy for breakfast." Outstanding cultures incorporate strong social impact programs, which leading companies know is key to the employee experience. Employee engagement through social impact improves meaning and connection at work, is key to talent attraction and retention, and is intimately tied to productivity and the bottom line.
"We're hosting +IMPACT East in Washington, D.C. because now more than ever, it's time to come together and stand up for what we believe in," says Ryan Scott, Founder and CEO of Causecast. "We're excited to be convening leaders from Fortune 500 companies, nonprofits and civic leaders who are creating more business and social impact in their work."
Speakers at +IMPACT East include:
Carla Perlo, Founding Director, Dance Place
Danielle Holly, CEO, Common Impact
Erica Tavares, Senior Director, Institutional Advancement, International Medical Corps
Gary Bagley, Executive Director, New York Cares
Greg Kearns, VP, Institutional Business Development, Heifer International
Jessica Feingold, Senior Development Manager, East Coast & Europe, Kiva.org
Jim Starr, President & CEO, America's Charities
Julie Smith, Chief Administrative Officer, The Bozzuto Group
Linda Gornitsky, President, LBG Associates
Marshawn Wolley, Lecturer, Public Affairs & Director of Community Engagement, Indiana University
Matt Comanda, Director, VolunteerMatch
Mauricio Garcia, Deputy Director, Cities of Service
Nate Hurst, Global Director, Sustainability and Social Innovation, HP
Nzinga Blake, Actress, Filmmaker and Content Director
Roger Wong, CSR Manager, Marsh
Susan McPherson, Founder & CEO at McPherson Strategies
Social impact is a growing area of focus, and corporate leaders must continue to evolve and grow in order to meet the rising demand. Corporate commitment to giving and volunteering is steadily growing. As Double the Donation notes, 65% of Fortune 500 companies offer matching gift programs. CECP also found that companies that increased total giving by at least 10% between 2013 and 2015 saw increases in median giving as a percentage of revenue and pre-tax profit.
Causecast believes that bringing professionals from multiple sectors together is key to addressing the world's biggest challenges and making the most impact. Causecast aims to promote diverse, collaborative and cooperative working models, and, in so doing, eliminate barriers for skills development. They envision a time when companies, and the employees who power them, are able to quickly and seamlessly mobilize as forces for lasting change. Practitioners in this space have historically struggled to feel they are making the highest level of contribution they are here to make.
+IMPACT exists to support these professionals and unite them around their shared passion for community service and a kinder, more equitable world. Causecast aims to transform the way companies engage in the business of giving back by building new levels of professional capability, capacity and cooperation so that causes, communities and companies receive the full benefit from their program and partnership investments. The +IMPACT conference is designed to educate, inspire, and celebrate authentic stories that support ongoing cause-centric efforts.
For more information and to register, see: http://innovation.causecast.com/impact2017/
About +IMPACT
The +IMPACT conference series occurs annually and focuses on continuing Causecast's commitment to helping corporate professionals build new skills and develop enhanced programming that achieves unprecedented impact for the causes and communities that employees are most passionate about.
About Causecast
Causecast is the leading provider of corporate cause integration technology solutions, helping organizations become more effective corporate citizens. Through its Community Impact Platform, Causecast automates and enhances systems for employee volunteering, giving, matching, rewarding and disaster relief. Causecast's vision is to foster a cutting-edge social ecosystem that elevates corporate social responsibility to a whole new level, where sustainable and measurable accomplishments move the needle on an organization's social mission, employee engagement, culture, and bottom line. See http://www.causecast.com for more information.