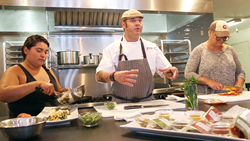 a depriving diet will never win when it comes to weight loss goals. What is sustainable and perhaps the secret to sustainable weight loss is cooking."
San Diego, California (PRWEB) April 26, 2017
Premier fitness and weight loss resort, PFC Fitness Camp launches Culinary Fit—the only all-inclusive weight loss retreat that uses knife skills, sautés and saucepans to significantly shrink waistlines. All-Star Wellness Chef, Jason Kieffer alongside Gordon Ramsay trained Sous Chef, Anthony Rodriguez pioneer the weight loss world with a culinary experience that sends tastebuds on vacation and transforms lives through the power of food.
The holistic weight loss camp, which incorporates a tripod of Behavioral Science, Nutrition, and Fitness celebrates all things food in this mouthwatering new fitness program. Together, Chef Kieffer and Sous Chef Rodriguez deliver a healthy dose of metabolism revving meals and the latest scientific findings in nutrition to empower guests for long-term success when they go home.
"Eating is one of the many joys of life," states Executive Wellness Chef Jason Kieffer. "Which is why a depriving diet will never win when it comes to weight loss goals. What is sustainable and perhaps the secret to sustainable weight loss is cooking."
Culinary Fit revives the kitchen as a true place of healing. The week-long culinary fitness program charges each morning with exhilarating workouts guided by the nation's top fitness trainers and educators, followed by an afternoon in the kitchen where Chef Kieffer teaches the groundwork for creating a healing kitchen of flavorful foods and realistic menus to easily apply at home.
From knife skills, gastronomy and meal prep, to calorie control and developing nutrient-dense plates, Culinary Fit campers of all levels cultivate a new confidence in the kitchen and an entire repertoire of fat-burning recipes paired with culinary tricks to make cooking a fun, indispensable weight loss tool for the rest of their lives.
With a SoCal coastal setting, exhilarating workouts, and gourmet, metabolism boosting meals, PFC Fitness Camp's Culinary Fit program boasts a delectable wellness experience weight loss camp seekers won't find anywhere else. For more information visit: https://www.premierfitnesscamp.com/culinary-fit/
About PFC Fitness Camp:
The nation's top all-inclusive fitness and weight loss resort nestled in the coastal foothills of San Diego, California at Omni La Costa Resort and Spa. Featured on the Today Show, CNN, Travel and Spafinder's Where to Sweat Destination, Southern California's premier weight loss camp holds the gold standard in optimal health, grounded in science and tested by top physicians and health experts in the industry. Dedicated to providing long-term success, PFC Fitness Camp offers a comprehensive approach to Behavioral Science, Nutrition and Fitness for a full wheel of wellness that has resulted in thousands of sustainable weight loss and life-transformations around the world.