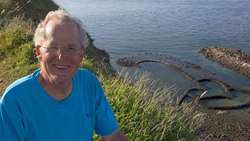 (PRWEB) April 24, 2017
After the joint production of "Taiwan Lantern Festival" and "Iron Pathway" by the Tourism Bureau, M.O.T.C Republic of China, and Public Broadcasting Service (PBS), Joseph Rosendo's well-known travel series "Travelscope," marvels the audience once again with the "Taiwan's Penghu Islands" series. Hosted by Daytime Emmy Awards winner Joseph Rosendo, the new show takes viewers through the world's best secret island recommended by Lonely Planet: Penghu. The season 9 series of Travelscope premiered on December 17th last year; the whole series received four nominations for the 44th Daytime Creative Arts Emmy Awards, including Outstanding Travel and Adventure Program, Outstanding Directing in a Lifestyle/Culinary/Travel Program, Outstanding Host in a Lifestyle/Travel/Children's or Family Viewing Program and Outstanding Cinematography. It received the largest number of nominations ever, sharing Taiwan's beauty under the spotlight of international competition yet again.
"Taiwan's Penghu Islands" series showcased the "Taiwan Summer Solstice 23.5" tourism guide, which combines the multi-faceted tourism fun on outer islands; the entire itinerary is explored through traveling by the means of motorcycle, yacht, bamboo raft, snorkeling, and even ox cart, chasing the most beautiful sunrises and sunsets on the island. Rosendo spent time with local fishermen to experience their daily lives, fishing in the open sea, docking and unloading fishes at the Magong Number Three Fishing Harbor; auctioning fishes, drying fishes in Jingan, and learning oyster farming at the Caiyuan Leisure Fishery Farm. After experiencing a fisherman's life, Rosendo explored a modest farming village to enjoy a leisurely ox-cart ride on the country roads of Nanliao. He also learned how to paste the wall with ox manure from the locals, as well as the skill of making incense with Penghu's herbs at the Erkan Historical House. Of course, he did not miss out on the most spectacular event among "Taiwan Summer Solstice 23.5": The Penghu Ocean Fireworks Festival.
"The spectacular fireworks are like a celebration of Taiwan's unique endowment of natural and cultural resources. From the breathtaking scenery to the heartwarming human touch, Taiwan is full of charm and surprise; that's why I am drawn to visit this place again and again. The fireworks serve as a perfect ending for this wonderful journey," Rosendo said in an emotional note.
Excited about the unprecedented 4 Emmy nominations, Rosendo said "I am very thankful for this opportunity offered by Taiwan to allow our production team to experience the most authentic hospitality, convenient transportation, and delicious local dishes -- especially all the new friends we met in Penghu; their sincerity touches our hearts."
"Thank you Travelscope for being our strong partner for such a long time. Through the camera, more people can see Penghu's traditional Minnan culture, fantastic basalt landscape, rich ocean resource, and local life and delicacies. Especially after the show having been broadcasted by PBS, it has certainly helped increase the number of American travelers visiting Taiwan in recent years. I expect more cooperative opportunities in the future, and that every corner of Taiwan would have a chance to receive an Emmy Award," said Mr. Brad Shih, the Director of Tourism Bureau Los Angeles Office.
Video link to episode: http://travelscope.net/episodes/season-9/taiwans-penghu-islands/