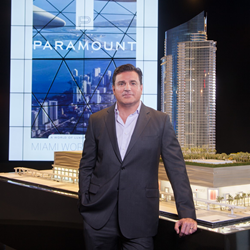 "Paramount Miami Worldcenter is going to change the skyline…but also Miami Worldcenter is going to change the city's landscape."
(PRWEB) April 25, 2017
Florida's soon-to-be $3 Billion Miami Worldcenter will be the city's new mega retail, residential, entertainment, tourism and transportation complex.
(Animation, B-Roll & Bites: https://vimeo.com/214120705)
Terrestrial Footprint
It is being built on a 1.1 million square foot, eight city block-long, 27-acre landscape that was a wasteland of decaying warehouses for nearly 50 years.
Going Vertical
Work crews are rapidly moving upward, at a pace of one floor per week, now that the seven story pedestal of Paramount Miami Worldcenter is completed.
Most Amenities in World
The 700-foot, 60-story, half-billion dollar skyscraper is one of the tallest in the southeastern U.S. and offers amenities found nowhere-else, according to Paramount Miami Worldcenter CEO - Developer, Daniel Kodsi.
It will feature an upper urban deck with resort-style pools, bungalows, walking paths, gardens, tennis courts and a soccer field -- all of it overlooking Miami.
The Sky Deck includes an astronomy observatory, outdoor bar, lounges and plunge pool.
Inside are a jam room, boxing and fitness center, spa, golf simulator, racquet ball and basketball courts and much more.
Residential, Retail, Restaurants, Tourism, Transportation
Paramount will intertwine with 10 other projects, a six block-long shopping and dining promenade, a 1700 room Marriott Marquis -- Florida's largest hotel, a new convention center and the main terminal of the privately-owned Brightline intrastate rail system.
America's City of the Future
Kodsi says, "Miami Worldcenter will be 'A City Within, What Many Call, America's City of the Future.'"
-----SOUNDBITE--QUOTE---
"Paramount Miami Worldcenter is going to change the skyline…but also Miami Worldcenter is going to change the city's landscape. We are modernizing the infrastructure -- adding new sidewalks and new streets.
This is going to create billions of dollars in revenue and create thousands of American jobs in surrounding neighborhoods that desperately need the work."
------ VO -------
Jobs Program
In a public-private sector agreement, 25 percent of the estimated 15,000 Miami Worldcenter new construction jobs will go to unskilled people living in nearby inner-city neighborhoods, according to the Miami-Dade Mayor's office and Nitin Motwani, Managing Principal, Miami Worldcenter Associates.
Those people will receive on-the-job-training and paid $12.83 versus Florida's $8.03 minimum wage.
(Event B-Roll: https://vimeo.com/214589180)
VIP Event
This weekend, Paramount's developers threw one of the largest VIP concert-premiere party in recent Miami memory.
The event marked the milestone achievement of the project going vertical and the debut of Paramount's new global media campaign.
Prices
Paramount Miami Worldcenter's 522 units, of which 20 are penthouses, are priced from between $700,000 and $9.8 Million.
(Renderings & B-Roll: http://www.MiamiWorldcenterNews.com)
Completion Date
Paramount's construction is expected to be completed in 2018. The entire Center is expected to be finished in 2019.
Rail System
Brightline is scheduled to start operations this summer with service between Miami, Fort Lauderdale and West Palm Beach and, eventually, Orlando.
Size Comparisons
At 27 acres, Miami Worldcenter is one acre smaller than New York's Hudson Yards. In comparison, Rockefeller Center, built in 1931, is 22-acres.
"With the same prominence that the GE building is the towering symbol of '30 Rock,' downtown Miami's monogram pinnacle will be Paramount," says Kodsi.
Media Assets: http://www.MiamiWorldcenterNews.com
Contact: Bryan Glazer / World Satellite Television News / Bryan@televisionews.com