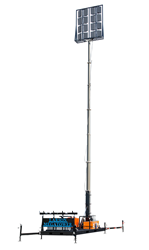 These 65' hydraulic LED Megatowers are surpassed by none when it comes to light output and size.
Kemp, TX (PRWEB) April 25, 2017
Larson Electronics LLC, a leading industrial lighting company, announced the release of a new self-contained 65' LED Megatower to be added to its catalog of products this week. This skid mounted fold over 7-stage hydraulic Megatower provides a safe and effective way for operators to quickly deploy sixteen 500-watt LED light heads to elevations above 65', reaching a total hight of 74'.
This SMDE-11-HLM65-16X500LTL-LED 65' self-contained hydraulic LED Megatower contains a water cooled diesel engine powering a 11KW Kubota generator, which supplied the current for sixteen 500-watt LED lights producing 60,000 lumens each, for a combined total of 960,000 lumens of light. This light tower can run uninterrupted for up to 43 continuous hours without refueling and includes a hydraulic telescoping light mast. The hydraulic tower is capable of reaching heights of up to 74' with the light head assembly, replacing 4-6 standard 4000 watt metal halide light plants for larger area coverage. The height of this LED Megatower allows users to operate large equipment without the light obstructing their view. This mobile floodlight package is designed for use in large scale event illumination, construction, mining, industrial operations and anywhere a mobile full power lighting system capable of extended operation is needed.
The entire LED light plant is mounted onto a large skid mount system for incorporating all of the necessary lighting equipment/components in one package. This skid mount includes a front mounted storage area for stowing tools and accessories. Six 7,000 lb hand crank jacks are used for raising the unit up off the ground, and four 7,000 lb crank jacks mounted on extending outriggers are used for leveling and stabilizing the assembly. The jacks can be leveled by hand crane or attachment provided for power drills. This light plant can withstand 35 mph winds when fully extended, and 50 mph winds when lowered to 30'. When lowered to 22', the mast can withstand wind speeds up to 95 mph with gusts of 125 mph.
"These 65' hydraulic LED Megatowers are surpassed by none when it comes to light output and size," said Rob Bresnahan, CEO of Larson Electronics LLC."It has been designed to provide operators with a rugged and extremely reliable source of brilliant light that no other tower can compare to."
About Larson Electronics LLC: Larson Electronics LLC is a manufacturer of industrial lighting equipment and accessories. The company offers an extensive catalog of industry-grade lighting and power distribution products for the following sectors: manufacturing, construction, food processing, oil and gas, military, marine and automobile. Customers can benefit from the company's hands-on, customized approach to lighting solutions. Larson Electronics provides expedited service for quotes, customer support and shipments.