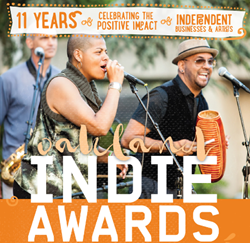 The Oakland Indie Awards is the ultimate opportunity to celebrate what we love about our passionate and community-minded town.
Oakland, Californa (PRWEB) April 27, 2017
The 11th Annual Oakland Indie Awards, presented by Beneficial State Bank and Beneficial State Foundation, is on Thursday, May 18th, 2017 at the Oakland Museum of California. Attendees will discover the indie businesses and artists who make Oakland the creative and entrepreneurial epicenter of the Bay Area.
Eight award winners will be announced in recognition of their social, economic, and environmental impacts on Oakland. And, for the first time in its history, the public can attend a free, live screening of the Oakland Indie Awards ceremony sponsored by Townsquared. The outdoor screening will take place promptly at 5:30pm at the Oakland Museum's entrance.
The celebratory "party with a purpose" begins at 6:30pm. With their ticket ($10 adv/$15 door), party-goers can expect an evening packed with live music and entertainment, local food vendors, interactive exhibitors, and an Indie Marketplace featuring local makers. For over a decade, the Oakland Indie Awards has gathered together entrepreneurs, artists, and an extremely eclectic group of deeply community-minded Oakland residents.
The main stage will feature notable Oakland talent such as Fito Reinoso, Ise Lyfe, SKIN feat. DJ Cecil & Daktari Dance, Oakland Future Trio, Khela, and more.
"We are looking forward to seeing all of the wonderful indie businesses and artists who are a mighty force for good in our local economy," says Jamie Facciola, Oakland Indie Awards Event Director. "The Oakland Indie Awards is the ultimate opportunity to celebrate what we love about our passionate and community-minded town."
For more information, visit http://www.oaklandindieawards.com
About Beneficial State Bank and Foundation
Beneficial State Bank is an FDIC-insured Community Development Financial Institution (CDFI) that serves businesses, nonprofits, and individuals. As a triple bottom-line bank and certified B Corporation, Beneficial State balances its social, environmental, and financial impact to meet the needs of its communities. The bank is headquartered in Oakland, CA with branches in Portland, OR, Seattle, WA, Sacramento, CA, Santa Rosa, CA, Porterville, CA, Fresno, CA, Bakersfield, CA, Modesto, CA, N. Hollywood, CA, East LA, CA, and Visalia, CA.
Beneficial State Foundation's mission is to create, guide, and promote a beneficial banking model that transforms the banking industry; we accelerate the transformation by attracting human, financial, intellectual and capital resources to beneficial banking.
Learn more at http://www.beneficialstate.com or http://www.beneficialstate.org.