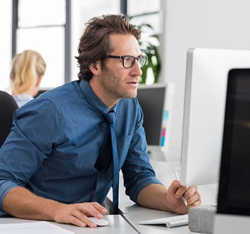 Reliable and secure email service is essential to the health of the enterprise.
Hoboken, New Jersey (PRWEB) April 25, 2017
A NYC area cloud services provider, IT consultant and MSP reviews the importance of reliable email in the wake of Verizon's decision to drop email services, in a new article on the eMazzanti Technologies website.
In the informative article, the company discusses fallout from the Verizon decision, choosing a reliable email provider and the benefits of hosted email. Email security and managed services are also discussed.
"Email is the beating heart of business communications," related Jennifer Mazzanti, CEO, eMazzanti Technologies. "Reliable and secure email service is essential to the health of the enterprise."
Below are a few excerpts from the article, "Reliable Email Protects Mission-Critical Communication."
"Verizon customers have begun to scramble. While the company has outlined a relatively straightforward transition path to AOL, allowing customers to retain their existing email addresses, users may experience some deliverability issues in the interim."
"On the other hand, industry pundits predict that many Verizon customers will take the opportunity to switch email providers, choosing from an array of options. This will necessitate a more complicated migration process, particularly for businesses."
"In addition to a feature-rich solution, organizations need an email service provider with longevity. As the Verizon example illustrates, a business decision on the provider's part to move away from email support can have a profound effect on customers that depend on that service."
"In addition to choosing an email provider, businesses need to decide whether to manage email services in-house or move to a hosted solution. Ultimately, the decision comes down to factors such as cost, security and maintenance," the article relates.
Email security with eMazzanti Managed Services
With its award-winning MXINSPECT, eMazzanti helps organizations reduce IT costs while providing reliable email and supporting increased employee productivity. Tailored to specific needs, MXINSPECT offers a multi-layered defense against a wide variety of email threats.
The combination of eMazzanti's comprehensive Managed Services and Microsoft Office 365 for Business provides an elegant, cloud-based, scalable and secure solution for business communication needs, including email. eMazzanti customers focus on the business while eMazzanti provides customized, 24/7 protection for critical assets.
Related resource information:
Three Reasons to Employ Office 365
6 steps to securing your email
About eMazzanti Technologies
eMazzanti's team of trained, certified IT experts rapidly deliver retail and payment technology, digital marketing services, cloud and mobile solutions, multi-site implementations, 24×7 outsourced network management, remote monitoring and support to increase productivity, data security and revenue growth for clients ranging from law firms to high-end global retailers.
eMazzanti has made the Inc. 5000 list seven years running, is a 2015, 2013 and 2012 Microsoft Partner of the Year, 2016 NJ Business of the Year, 5X WatchGuard Partner of the Year and one of the TOP 200 U.S. Microsoft Partners! Contact: 1-866-362-9926, info(at)emazzanti(dot)net or http://www.emazzanti.net Twitter: @emazzanti Facebook: Facebook.com/emazzantitechnologies.