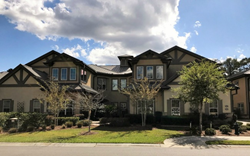 A townhouse can be an attractive choice for those who want to downsize and live in a home that requires less maintenance when they relocate. However, we advise our clients to consider these six pros & cons first.
Bluffton, SC (PRWEB) April 26, 2017
Marian Schaffer, Principal and Founder of Southeast Discovery, a real estate consulting firm specializing in guiding Baby Boomers with their real estate needs in the niche markets of retirement relocation and second homes in the Southeast region, recently shared six factors to consider when buying a townhouse for retirement, relocation or second home purchase.
"Many of the clients we've worked with in the last 10+ years are ready to downsize and live in a home that requires less maintenance when they relocate," said Schaffer. "For these reasons a townhouse, rather than a single-family home, can be an attractive choice. But there are a few things we advise our clients to consider before purchasing a townhouse so they can be sure it's the right choice."
According to Schaffer, the following factors will help home buyers make an informed decision about purchasing a townhouse:
Lower Cost
"One of the advantages of buying a townhouse rather than a single-family home is they can be more affordable," said Schaffer. "If so, the lower price point makes them especially appealing to those who plan to make this their home heading into retirement, which is a time for enjoying life without the burden of paying for a home that is more than they need or can afford."
Less Maintenance
"A townhouse is usually going to require less home owner upkeep and maintenance than a single-family house," said Schaffer. "While there may be condo association fees in addition to community HOA fees, these condo association fees will handle much of the exterior maintenance, and include landscaping care and usually trash removal, otherwise all paid for by the home owner. This ensures that the maintenance of the exterior is well-cared for."
Convenience and Lifestyle
"Condo association fees may seem pricey, but part of what you get in return is convenience, and the ability to live a more low-maintenance lifestyle. If you don't have to mow the lawn, trim the bushes, put mulch down each year, or worry about painting the trim or the exterior of your home every five years, you have a lot more time to enjoy your life," said Schaffer. "Another compelling lifestyle factor about townhouse communities is, since these neighborhoods are higher density communities, you'll have an easier time meeting and getting to know your neighbors."
Less Privacy
"On the other hand, because you'll be sharing at least one wall with your neighbors, it's going to be noisier than when you live in a single-family home, which could be a nuisance," said Schaffer. "You're also not likely to have your own private yard, and if you do, it will be smaller than a typical yard, and it won't offer real privacy, since other residents in the townhouses near you will likely be able to see into your yard. If you don't like the idea of living this close to your neighbors, then a townhouse may not be the best choice."
Less Space
Smaller outdoor areas offer advantages, like less time spent on upkeep and maintenance, but also less space for pets, outdoor entertaining, gardening, and other outdoor pursuits.
HOA Rules
"One of the most important things to consider when buying a townhouse is the community's rules and restrictions," said Schaffer. "Condo associations will have a long list of rules concerning what you can and cannot do to your home's exterior, restrictions on parking, strict pool and clubhouse hours, and other do's and don'ts."
For those relocating to the Southeast who want information on how and where to start their search, Southeast Discovery assists folks from all over the U.S. streamline the process so they can find the right area and community to call home. Complete the firm's complimentary online questionnaire here to receive feedback on the best areas and communities in the Southeast for retirement and relocation.
About Southeast Discovery
Since 2004, Southeast Discovery has been a trusted resource for candid information and insight on communities, developments, and general real estate in the Southeast. Through its highly-ranked web portal, newsletter and blog and its one-on-one work with clients, Southeast Discovery helps buyers actively looking for a retirement or second home in the Southeast navigate the process of identifying the right area and community for their needs. To learn more, visit http://www.southeastdiscovery.com/