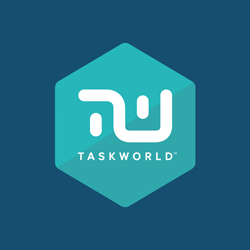 "It's the ultimate solution for enterprises, offering not only the tools for innovation, but added value and room to grow" - Fred Mouawad (CEO & Founder, Taskworld)
New York (PRWEB) April 26, 2017
Leading project management app, Taskworld, today announces the launch of new Enterprise plan with unlimited usage, private cloud servers and discounts for educational institutions and non-profits.The app consolidates all files, tasks, messages and analytics related to work in one secure place and now, businesses can access huge benefits from the new options.
1) NEW VIRTUAL PRIVATE CLOUD
In addition to savings and added value, the new Enterprise plan with unlimited usage now offers access to private cloud. With this plan, businesses may choose from 16 geographic regions worldwide including Los Angeles, New York (USA), Frankfurt (Germany), London (UK), Singapore, Seoul (Korea), Tokyo (Japan), Beijing (China) and São Paulo (Brazil). With these dedicated data centers, enterprises experience even faster speeds, and data is encrypted with the utmost security, backed up fully and continuously every hour. The Enterprise plan also includes personalized live demos and onboarding, with priority access to customer support.
"Agility and velocity are essential for businesses looking to scale their success. It's in that spirit that Taskworld offers its Enterprise plan," said Fred Mouawad, CEO of Taskworld. "It is the ultimate solution for enterprises, offering not only the tools for innovation, but added value and room to grow."
Taskworld's Enterprise Plan gives you the opportunity to use Taskworld like never before.

Unlimited People & Workspaces
Dedicated Server in your own Virtual Private Cloud (VPC)
Premium Support and Personalized Live Demos
Continuous data backup every hour
2) DISCOUNTS FOR EDUCATIONAL INSTITUTIONS AND NON PROFITS
Taskworld's new pricing plans include generous discounts for educational institutions and non-profits.
Educational institutions can now subscribe to an unlimited package that allows schools and universities to add as many students, teachers and admin staff to a workspace for $399/month.
"I have tried many other project management systems, but I settled on Taskworld because of the user friendly interface, their features and their willingness to listen and improve." - Isa Dunaway, Web Administrator - Trinity Episcopal School
Non-profits can now receive a flat 30 percent off on all annual plans.
"Taskworld makes work seamless by allowing everyone to see what needs to be done, how, by whom and by when. I would definitely recommend Taskworld to other managers and non-profit organizations. It made our work life much more easier. We have gained efficiency by saving hours of work every day." - Sean Callaghan, Operations Director - 28TooMany.org
Taskworld's pricing starts at $8 per month for a single person after a 15-day free trial. Downloading the mobile app is free. The platform is available in English, German, French, Italian, Japanese, Korean, Mandarin, Portuguese, Spanish, Standard Chinese, Bahasa and Thai. For more information about Taskworld, visit http://www.taskworld.com or follow the company on LinkedIn, Facebook and Twitter.
ABOUT TASKWORLD
Taskworld Inc., founded in New York in 2012 by serial entrepreneur Fred Mouawad, is a cloud-based task/project management software that is used by thousands of teams and solo users in more than 80 countries.