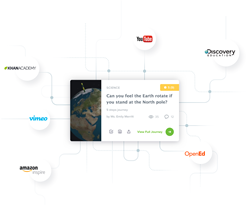 Learning is a Journey, Not a Destination.
Menlo Park, CA (PRWEB) April 26, 2017
Announcing Recap 2.0 - a Q&A platform that ignites anyone's curiosity to learn anything. It bridges the divide between the collective need to find better answers and the education community's need to inspire learning with a Q&A platform that does more with questions.
Why are better answers needed? People's growing apathy to learn is becoming a powerful global force. And it has a direct connection to the over-reliance on algorithmic searches and feeds. To counterbalance this, better answers that pull from the collective wisdom of thought leaders and educators are necessary. "Educators have been on the frontline of this problem for several years already. Who better to help lead the way forward?" said Swivl CEO, Brian Lamb.
Recap 2.0 comes with a connected public Q&A site called Discover. It's where thought leaders and educators ignite curiosity to learn with Journeys connected to what's worth knowing. Journeys are better answers to questions, designed based on research about how curiosity works. Their title is always a question. And they are made up of a 60 second video with links. The second update is an expanded platform for educators to gather and shape class discussion around student questions.
The platform is built to match Journeys to student questions automatically based on interests, making it easy for educators to leverage the Discover community and better personalize instruction. And like Teachers Pay Teachers, it will provide opportunities for them to get paid for their Journey contributions.
Recap 1.0 was launched a year ago to allow educators to pose questions to students and gather rapid video responses. It met a growing need for teachers looking to go beyond just teaching to the test and it has collected 1.5M student responses since launch. Dan Klumper of Dakota State University says, "I love Recap. I use it a lot to get kids to summarize, think about and respond to what we are doing in class together. It gives them all a voice, even the shy/reserved students who don't want to speak in front of the whole class."
"Long term, I see Recap 2.0 working like Quora. Where anyone can search for questions on Google and find Journeys that ignite their curiosity to learn more deeply. Educators will continue to tap into this rapidly expanding knowledge base and curate the best Journeys for their dialogue with their students. That's when we start to create a new future," said Brian Lamb.
Recap 2.0 is launching in public Beta. Interested users will be able to test out features immediately. The full Beta featureset will be available to all users by early May. Recap Discover will be in private Beta with access limited to select thought leaders and educators until late summer.
About Swivl
Founded in 2010, our aim is to develop solutions that unleash qualities within students and teachers to make big leaps forward. We are best known for the Swivl Robot that is used in over 25,000 schools around the world for video learning applications. Swivl is based in Menlo Park, CA and has offices in Kiev, Ukraine, and Hong Kong.
To learn more about Recap please visit: http://letsrecap.com.