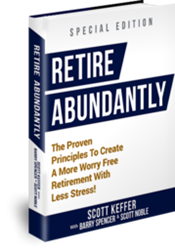 "Too many do not know the principles to successfully preserving, protecting and passing on wealth" Barry H Spencer
Alpharetta, Georgia (PRWEB) April 25, 2017
New book, "Retire Abundantly" co-authored by Barry Spencer and Scott Noble, CPA/PFS, offers retired and soon-to-be-retired business owners, executives, professionals and women on their own wisdom, advice and principles on how to reduce taxes and preserve wealth to create a more secure lifestyle and greater legacy.
The more than 44 million Americans over the age of 65 are facing stiff challenges to retire and stay retired.
"Very few realize that accumulating wealth of one million dollars are more is accomplished by so few, only by about three percent of Americans. As a result, many do not come to know the principles to successfully protecting, preserving and passing on that wealth," said Spencer.
The new book educates and equips retirees against the little-known mistakes and costly missteps that can derail a retirement lifestyle.
Noble adds, "The business owners, executives, professionals and woman on their own, face different challenges than the other 97 percent of Americans. With the challenges come unique opportunities to create a more secure and bigger future."
The retirement mistakes and missed tax savings are rampant due to the IRS tax code having over 73,000 pages. "Avoiding costly mistakes is more complex than ever as a result." Spencer adds.
The IRS levied over half a billion dollars in fines in just a two-year period for missed retirement plan withdrawals and contributions that break the rules.
The easy-to-read book begins by exposing how and why the retirement planning industry has left some retirees looking for more answers, along with the myths that have become common. It educates the reader without the typical technical jargon that adds to financial confusion and too often results in retirement mistakes.
Included in the book are the 12 biggest retirement obstacles and what to do now.
The book concludes by outlining the solutions, including an enlightening case study that illustrates the concepts detailed in the book. The reader will also find interesting and informative real life stories of failure and success throughout the book.
At the end of the book it instructs readers how to take a next step that will benefit their lifestyle and retirement planning.
"It is our objective to get the book into all the hands of the three percent in our area in order to inform and show those with wealth how to more fully enjoy their wealth," says Spencer, "and more effectively preserve, protect and pass it on. To retire abundantly is to also have wealth with no regrets."
About Barry Spencer:
Barry H. Spencer is a nationally recognized Financial Educator, Author, Speaker, Industry Thought-Leader, and Estate and Charitable Wealth Planning Specialist. His latest books include, The Secret of Wealth With No Regrets; Giving Transforms You!; The Serving Leader and Retire Abundantly. Barry's insights have benefitted attorneys, accountants, financial advisors and philanthropic professionals. Spencer is especially adept at showing business owners, professionals, executives and woman on their own how to maximize their wealth and enjoy Wealth With No Regrets®.
About Scott Noble:
Scott M. Noble, CPA/PFS is a nationally recognized Professional Education Instructor, Author and Estate and Charitable Wealth Planning Specialist who is a CPA with Personal Financial Specialist Credentials (PFS) - an exam and real-world experience certification for providing extensive tax, estate, retirement, risk management and investment planning advice to individuals, families, executives and business owners. He is a sought-after educator among his peers in the financial and estate-planning industry giving presentations on financially sound methods for a more predictable and tax efficient financial estate and retirement.