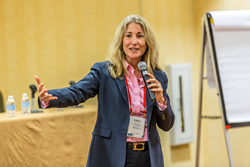 How can you partner everywhere at the pace, scale, and efficiency your customers demand now? Even the most seasoned alliance, channels, sales, and strategy executives struggle with today's relentless pace. Our speakers tackle these challenges head-on.
CANTON, Mass. (PRWEB) April 25, 2017
The Association of Strategic Alliance Professionals (ASAP), the world's leading professional association dedicated to the practice of alliance management, partnering, and business collaboration, announced the debut of the ASAP Tech Partner Forum, "Collaborate at the Speed of Digital Transformation," a one-day executive learning event to be held Wednesday, June 7, 2017 at the corporate campus of gaming video graphics processing leader NVIDIA. Featured speakers include Tiffani Bova, global customer growth and innovation evangelist at Salesforce; Karen Dougherty, vice president of channel and alliances at GE Digital; and John Fanelli, vice president, product at NVIDIA Grid.
"ASAP is excited to launch a brand new event solely focused on advancing the state of the art in partnering practice among high-tech companies," said Michael Leonetti, CSAP, president and CEO of ASAP. "Prepare to think hard and have your conventional wisdom challenged. This intensive, one-day executive event brings together an all-star cast of presenters offering an eye-opening look at what it really takes to succeed when you collaborate at the breathtaking speed of digital transformation—which is sweeping every industry touched by new technologies, and disrupts no industry more so than high tech itself."
Bova—who spoke March 2 at the ASAP Global Alliance Summit in San Diego— Fanelli, and Dougherty will be joined on stage June 7 by other high-tech partnering executives and experts including Andres Sintes of Cisco, Jim Chow of Google, Maria Olson of NetApp, Olimpio DeMarco of NVIDIA, Mike Maturo of Relayware, Meaghan Sullivan of SAP, Brooke Cunningham of Splunk, and Gaye Clemson of Globalinkage Consulting. Critical topics covered by these high-tech executives and thought leaders include:

Strategies to partner everywhere, build cross-industry ecosystems and other complex collaborations, and drive profit, innovation, and value in service of customers;
How to leverage a diversity of agile, flexible partnering models—and a unified enterprise-wide capability to holistically manage alliances, sales channels, ecosystems, innovation networks, and other forms of business collaboration;
What technologies, training, and tools—including the latest frameworks, certification, processes, practices, and tools developed by the ASAP community of practice—can be used to manage, accelerate, and scale partnerships and collaborations.
"Today, more than ever before, high technology companies are the world's most prolific partnering organizations—and that's reflected by the number of high-tech partnering executives who present at ASAP events and fill our membership ranks," Leonetti explained. "But how can you partner everywhere at the pace, scale, and efficiency your customers demand now? Even the most seasoned alliance, channels, sales, and strategy executives—the folks who are accountable for partnering success or failure—find themselves struggling to manage the relentless pace of partnering in today's rapidly evolving ecosystems. The ASAP Tech Partner Forum will tackle head-on the pivotal, real-world business challenges that partnering executives must confront and solve every day."
The June 7, 2017 ASAP Tech Partner Forum will include five hours of in-depth executive learning content and three hours of networking. Continental breakfast, a networking lunch and reception, and two networking breaks are included in the cost of the event ($299 for ASAP Members, $399 for guests). Host Sponsor of the ASAP Tech Partner Forum is NVIDIA; the event will be at NVIDIA Corporate Headquarters, 2800 Scott Blvd., Building E, Santa Clara, Calif. Additional sponsors include Gold Sponsor SMART Partnering Alliance and Silver Sponsor BeyondTrust. To learn more or to register, visit http://www.asaptechforum.org.
About ASAP
The Association of Strategic Alliance Professionals (ASAP) is the only professional association dedicated to elevating and promoting the profession of alliance management, partnerships, and collaboration. Founded in 1998, the organization provides professional development, networking, and resources for cultivating the skills and toolsets needed to manage successful business partnerships. ASAP's professional certifications include the Certificate of Achievement-Alliance Management (CA-AM) and Certified Strategic Alliance Professional (CSAP). Active global members include Astellas, AstraZeneca, Bayer, Capgemini, Cisco, Citrix, Covance, Eli Lilly and Company, HealthCore, Huawei, IBM, INC Research, Janssen—Pharmaceutical Companies of Johnson & Johnson, JDA Software, Merck, Microsoft, Mission Pharmacal, NetApp, Novartis, Plantronics, Sanofi, Salesforce, SAS, Schneider Electric, Takeda, The Warren Company, and Xerox. A complete list of global members is available at http://www.strategic-alliances.org.