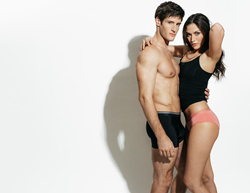 New York, NY (PRWEB) April 25, 2017
Men's upscale basics and luxury loungewear brand Tani USA launched it's new Spring/ Summer collection, introducing two new premium collections. The new Bond Collection uses the latest hot, bonding technology from Italy. The new Lisbon Collection features ultra-soft pima cotton with a subtle drop needle pinstripe.
These new collections are currently available online at TaniUSA.com
The new Bond Collection takes our FreeForm raw edge undershirt to a new level with the addition of the latest bonding technology from Italy. The sleeves and neck are heat bonded for a clean, sharp look and profile. The hem is a free form cut that is absolutely seamless. The collection includes a V-Neck undershirt ($65) and a muscle tank top undershirt ($60) both available in black and white sizes S-XXL.
The Lisbon Collection inspired by the picturesque city of Portugal, is a new line of men's pima cotton loungewear and underwear. The richest, finest pima cotton is knitted with a subtle drop needle creating a both a visible and textural pinstripe in the fabric. This sophisticated collection is ideal for lounging at home or on a quick jaunt to the neighborhood store. Available in lounge shorts with pockets ($95) and simple trunks ($45) both available in azure and slate and available in sizes S-XXL.
Our best selling SilkCut Collection uses the world's finest modal fibre to date. Thinner and finer than silk our SilkCut garments are lightweight and breathable. The Spring/Summer collection includes new seasonal colors and patterns to complement its basics assortment. Azure blue and palm tree prints add pops of color that are easy to mix and match. Available in briefs($40), boxers with a button fly ($45), trunks and boxer briefs ($45), lounge shorts ($95), tank tops ($40) and T-shirts ($45).
About Tani USA
Tani USA is a premium Men's loungewear and upscale basic brand founded to meet the demands of the growing population of consumers who appreciate the very best in quality and performance fabrics. We use the most advanced technology to create super soft fabrics that are innovative, sustainable & extremely comfortable.
Our singular mission is to set a new standard in upscale basics and luxury loungewear. We aim to create the world's best and most comfortable undergarments that change the way you think and feel about underwear.