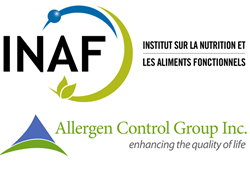 as leaders in developing and driving voluntary compliance programs for industry, our interest lies in the area of food allergen and gluten management, which has been selected as the first topic for the application of this platform
Toronto, ON (PRWEB) April 26, 2017
Allergen Control Group Inc. (ACG) is proud to announce a unique collaboration opportunity with Université Laval's Institute of Nutrition and Functional Foods (INAF) at the Faculty of Agriculture and Food Science, who have initiated the development of a new platform on Food Risk Analysis and Regulatory Excellence (FRAREP). The platform will build on the expertise available at the Institute and Faculty, to support primary knowledge generation and translation in various areas of food risk analysis.
The platform aims to gather available information and generate the missing components, to support food regulatory policy proposals which will be substantiated by a risk analysis approach addressing a gap or an emerging food safety and nutrition issue. The goal of the platform is to translate scientific information underpinning food standards and risk management into "a more usable" form for food regulators and industry alike. The intent is to increase the availability and access of ready-to-use food risk analysis information, which is needed by the food community in addressing regulatory challenges. It also aims to become a focal point for a multi-lingual science-driven source of information for food risk communication, adapted to various audiences.
Paul Valder, CEO of the Toronto based Allergen Control Group Inc., states that "as leaders in developing and driving voluntary compliance programs for industry, our interest lies in the area of food allergen and gluten management, which has been selected as the first topic for the application of this platform". The development of food allergen occurrence data, supported by relevant analytical methods and validated by risk assessment methodologies, and the development of adapted risk management approaches are amongst the areas of focus, with the priority on allergens and gluten sources. Under the leadership of Dr. Samuel Godefroy, a former senior food regulator in Canada with extensive international experience, the platform will host its first Center of Expertise in Food Allergen Research (FoARCE), supported by a partnership with food diagnostics global leader r-Biopharm. r-Biopharm is investing an initial $250,000 USD to support applied research efforts aimed at developing, validating and disseminating allergen and gluten detection methodologies to target research initiatives in food allergen and gluten management. Dr. Godefroy is a Full Professor of Food Risk Analysis at the Department of Food Sciences of Université Laval and a researcher of the Institute. "As a collaborative partner, ACG, owners of the risk based Gluten-Free Certification Program, will support the newly established r-Biopharm Canada/ INAF partnership both domestically and internationally to leverage support and maximize the impact of their research outputs, as we help target a leadership role for food allergen and gluten management," states Valder.
For more information about Allergen Control Group and the Platform, please contact:
Jessica Burke, Manager, Compliance & Technical Services
Allergen Control Group Inc., owners of the Gluten-Free Certification Program (GFCP)
jessica.burke(at)glutenfreecert(dot)com
Samuel Godefroy, Full Professor, Food Risk Analysis and Regulatory Policies
Department of Food Sciences, Université Laval
samuel.godefroy(at)fsaa.ulaval(dot)ca