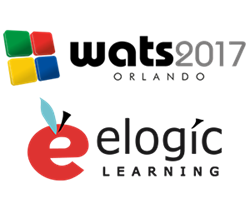 Orlando, Fla. (PRWEB) April 27, 2017
There are certain industries where conducting online training just seems to be a natural fit. The aviation industry is a perfect example. Sending flight staff, ground crew or manufacturing teams to off-site training is costly and inefficient with the training solutions available today such as learning management systems (LMSs).
eLogic Learning provides a #1-ranked LMS called eSSential and will be showcasing its features and functionality at the World Aviation Conference and Tradeshow (WATS) in Orlando, Fla. from May 2-4 at booth 608. There are many unique challenges the aviation industry faces that can be solved by using an LMS such as eSSential, including the ability to:

Deliver and track training for users across the globe via one system
Create custom portals for different user groups (i.e. flight staff, ground crew, manufacturing team, etc.)
Utilize a blended learning approach to fit both online and in-person training needs
Ensure compliance and avoid costly lawsuits through use of e-signatures and compliance-ready reports
Deliver and/or manage continuing education requirements for your staff
Integrate with other systems (HR, CRM, SMS) to more easily manage your staff
Update training in just a few quick and easy steps
Make training on-the-go via a mobile-ready platform
And so much more!
WATS attendees can stop by booth 608 to get more information on eSSential LMS and speak with our knowledgeable staff to see whether eSSential is the right fit for their training needs.
Those who are interested can also visit https://elogiclearning.com/essential-lms for more information and to request a live demo.
About eLogic Learning
A leader in the eLearning industry, eLogic Learning offers organizations world class, comprehensive LMS technology and content solutions that save costs and increase productivity. The eLogic eSSential LMS supports over five million monthly users and was named the #1 LMS by E-Learning 24/7, the #1 All-Purpose Extended Enterprise LMS by Talented Learning, and Top 20 by Capterra. The eSSential LMS makes it easy to manage eLearning, instructor-led and virtual training events, keep up with regulatory compliance requirements, analyze training usage and results, sell courses online with robust ecommerce features, and much more.
In addition to its Learning Management System, eLogic develops custom eLearning content and provides an extensive third-party courseware library. With a comprehensive turnkey approach to implementing learning strategies, eLogic offers professional services and proven expertise in content strategy, business process change and the development of corporate training programs.