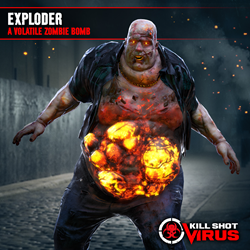 The new artwork makes it clear that Kill Shot Virus is unlike any other game on mobile.
Vancouver, British Columbia (PRWEB) April 26, 2017
Very soon, mobile gamers will be hunting down their first zombies in Hothead Games' upcoming action thriller, Kill Shot Virus, which hits the App Store and Google Play on May 11th.
Players can receive exclusive in-game Founders items at launch by pre-registering at http://www.killshotvirus.com. Android users can also pre-register for the game through Google Play at https://goo.gl/4z0U5r.
Today, the company released new spine-tingling details about Kill Shot Virus, as they introduce some of its gruesome characters and show off the hi-fidelity battlefields where the game's first few levels take place.
The new artwork makes it clear that Kill Shot Virus is unlike any other game on mobile. Though you will encounter many zombie-types, the three wonderfully hideous ones introduced today all feature unique personalities and special skills that will test your nerves, while the game's in-depth storyline and the 100+ heart-thumping missions make it clear that this isn't your traditional shooter game either.
To explain more about Kill Shot Virus' zombies, here's Hothead Games' Creative Director, Mike Inglehart:
Exploder: A Volatile Zombie Bomb
This Zombie's bloated frame is formed through a combination of gases and liquids that have congealed internally, stretching their skin and muscles to the limit. With such high amounts of pressure built up in their bodies, shooting an Exploder will often cause a volatile explosion of internal liquids and ignited gases. Great care should be taken against them, because while they can act as useful 'bombs,' they're not afraid to sacrifice themselves to spread the virus.
Thrower: Disgusting Distance Attacks
Throwers are an especially dangerous variety of zombie, having the ability to grow and throw sharpened projectiles at great distances. These 'enamel-shards' are extremely deadly as they are, covered in a concoction of internal fluids that cause infections and disease lasting far longer than any encounter with one of these zombies.
Leaper: Flying Crushing Attacks
Leapers' large brutish arms are paired with sharp bone-legs that taper off into deadly points. A Leaper's physique is adept at hurling its body up to hundreds of feet through the air to attack their prey. If unable to directly kill its target, a Leaper will impale its victim with deadly precision, as their powerful arms will undoubtedly crush any human.
He also describes the post-apocalyptic scenes from the city where the zombie outbreak first takes place:
Bishop Hill
Bishop Hill is a large district of the city that was quarantined immediately after the evacuation. With a police station and large hospital nearby, the area was a refuge from the zombie threat, but as the game begins, no region is safe. Our hero arrives just as the situation in Bishop Hill starts going downhill. He has to team up with Zoey, a radio communications expert, to try and save any survivors as the Zombie hordes grow stronger.
Capital Plaza Mall
Capital Plaza Mall was once a thriving symbol of capitalist enterprise. Now it's a wrecked and rubble-filled disaster zone, and hordes of Zombies roam the mall's storefronts. It's been rumoured that a team of scientists are holed up here hard at work to uncover a vaccine that could stop the virus. Our heroes must work together to protect these scientists in search of the cure but watch out for the flying Leaper zombie that has made the mall its home!
Communion Square
In an older part of downtown, the Holy Communion Church sits at the center of the Square. When the epidemic began, its pastor started accepting refugees and building stockpiles, making this one of the most secure locations in the city. As the Virus continues to grow and Zombies breach the holy walls, our hero is the church's only hope as more waves of the infected continue making their way downtown. The first boss battle is with a Bloater, so be sure to detonate it carefully.
The latest Kill Shot Virus assets can be downloaded at goo.gl/C0Zu0Q.
Get the latest updates from Hothead's social pages at:
Facebook: https://www.facebook.com/killshotvirus
Twitter: https://twitter.com/hotheadgames
Instagram: https://www.instagram.com/hotheadgames/
YouTube: https://www.facebook.com/hotheadgames https://www.facebook.com/hotheadgames
About Hothead Games
Hothead Games is one of Canada's largest independent game studios. Founded back in 2006, when our Hotheads barely had cold feet, our goal was nothing less than total world domination. We continue to strive for entertainment in all things, including our award-winning mobile game catalog, our company culture, and even this self-aggrandizing boilerplate that you're reading right now. For more information, visit http://www.hotheadgames.com.
©2017 Hothead Games Inc., Hothead, Kill Shot and Kill Shot Bravo are trademarks or registered trademarks of Hothead Games Inc., all rights reserved. All third party trademarks mentioned are the property of their respective owners.
# # #
Media Contact:
Matt McAllister
Fluid PR
(510) 229-9707
matt@fluidspeak.com
Company Contact:
Oliver Birch
Hothead Games
media@hotheadgames.com