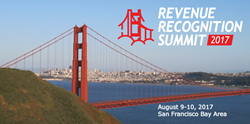 San Jose, CA (PRWEB) April 25, 2017
Leeyo Software, the market-leading provider of revenue automation solutions, today announced the Revenue Recognition Summit 2017 will take place August 9-10 at the Hyatt Regency San Francisco Airport. At this second annual Summit, revenue professionals, CFOs, IT professionals and top management will share best practices in revenue recognition and the timely transition to ASC 606. Attendees will hear from leading enterprises as well as Big Four Accounting firms, and explore industry trends and current challenges.
"Our first RevRec Summit in 2016 was a sold out success," said Jagan Reddy, Leeyo CEO. "And as the ASC 606 implementation dates loom, we expect an even greater turnout as companies start to automate their key revenue processes, addressing complex revenue recognition issues and adopting the new standards of ASC 606."
Speakers and sponsors over the two-day event will include representatives from all the Big Four accounting firms (Pricewaterhousecoopers, Ernst & Young, KPMG, and Deloitte), as well as industry thought leaders in the accounting and revenue recognition arena.
The Revenue Recognition Summit sessions will include:

ASC 606 guidance and transition methods from Big 4 accounting firms
Industry trends and best practices for those who have implemented multiple projects
Interactive discussions of tips and tricks to help maximize productivity
Hands-on training classes presented by the Leeyo Training Team
Robust case studies presented by global customers in a variety of industries
Networking opportunities with peers to share insights, and engage with the Leeyo product and consulting experts
As interest continues to heat up in conjunction with ASC 606, "Revenue from Contracts with Customers," the convergence of revenue guidance announced by the Financial Accounting Standards Board (FASB) and International Accounting Standards Board (IASB), this event is guaranteed to help address complex business needs for the industry as a whole and in support of the latest version of RevPro, which supports dual guidance for current and future GAAP as well as IFRS.
Registration and CPE Credit
Registration is now available online at leeyo.com/summit, with an early bird price of $499 through May 31st, 2017 (discounted from the full price of $799). There is a discounted hotel room block available through July 20th, 2017 by calling +1-888-421-1442 and asking for the Leeyo Revenue Recognition Summit Pricing.
Leeyo Software is now an accredited CPE provider and provides CPE credits for session attendees. Attendees can earn up to 18 credits (a 50% increase in hours over last year) for the full two-day event. Those wishing to receive CPE credit should register under the CPE ticket type for $999 for the full conference.
For a review of the 2016 Revenue Summit presentations and keynote addresses visit: leeyo.com/summit/archive/
To learn about sponsorship opportunities or to submit a speaking topic, visit: leeyo.com/summit
About Leeyo
Leeyo's revenue recognition software rescues companies and revenue teams of all sizes from the chaos of today's manual data entry, spreadsheet calculations and customized processes for revenue recognition. Leeyo's RevPro – the most comprehensive revenue recognition software suite on the market – automates and manages every process facing a revenue team – seamlessly integrating with the quote-to-cash processes of any ERP system to deliver unparalleled visibility, functionality and configurability to the revenue recognition and reporting process. Learn more about Leeyo and RevPro at Leeyo.com.
###