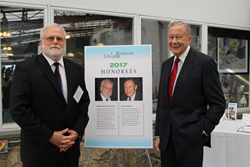 We have a tremendous team of staff and volunteers who put their heart and soul into helping our neighbors in need.
White Plains, NY (PRWEB) April 25, 2017
Lifting Up Westchester, the 38 year-old social services organization which serves all of Westchester County, celebrated at its annual Oasis of Hope spring gala at Leewood Golf Club in Eastchester on April 20th. More than 200 patrons and supporters were in attendance and $110,000 was raised. The money will enable the White Plains-based social services agency to provide homeless and poverty services for more than 4,000 Westchester men, women and children in need over the coming year.
Nearly $39,000 was raised specifically for the agency's Brighter Futures Summer Camp, which is a five-week day camp program for up to 100 of the County's homeless and economically disadvantaged children. With this funding, 78 children will be able to attend the camp. Lifting Up Westchester is still in need of scholarships for a remaining 22 children. Each camp scholarship is $500.
Honored at the event were Paul Anderson-Winchell who is retiring as the agency's Executive Director and Carlos Muñoz, philanthropist and former Chairman of the Board.
"It's incredibly humbling to have been honored this year by the organization than I have loved serving," remarked Anderson-Winchell. "We have a tremendous team of staff and volunteers who put their heart and soul into helping our neighbors in need. I'm just one of the team."
"For the past 11 years, Paul has been our executive director and he's being honored for his visionary leadership, his tireless work to develop collaborations and partnerships with other Westchester agencies, and for his unfailing belief that we can accomplish more together than we can separately," explained Helen Hamlyn, Board President.
Carlos Muñoz was recognized for his lifetime commitment to giving back to the community as a volunteer, philanthropist and as the former Chairman of the Board of Grace Church Community Center (now Lifting Up Westchester). Muñoz has served on several corporate and charitable boards. Prior to his retirement, Muñoz, a White Plains resident, had a long and brilliant financial career first at Citibank and later at Dime Bancorporation as Executive Vice President in charge of credit and risk management and President of the Dime Consulting Group.
Lifting Up Westchester provides the following assistance to Westchester County's neediest and most at-risk residents: Homeless Individuals -For the 2,000 homeless in the county, services includes Grace's Kitchen which annually provides over 20,000 free and nutritious weekday and holiday meals, Samaritan House Women's Shelter and Open Arms Men's Shelter, in addition to housing services to prevent eviction and homelessness. Youth - For disadvantaged and homeless youth in the county, Lifting Up Westchester offers five weeks of summer day camp, an after-school mentoring program and college scholarships to help them to be the first in their families to get a college degree and the last to live in poverty. Seniors/Disabled Individuals - Lifting Up Westchester's Neighbors Home Care Services, a licensed home healthcare services agency, offers quality homecare to over 400 homebound seniors and disabled individuals annually.
For more information about Lifting Up Westchester, visit http://www.liftingupwestchester.org or contact Chris Schwartz at cschwartz(at)liftingupwestchester(dot)org or (914) 949-3098.
About Lifting Up Westchester
Lifting Up Westchester (http://www.liftingupwestchester.org) is a 501 (c )(3) organization whose mission is to restore hope to Westchester County's men, women and children in need by providing them with food, shelter and support- lifting them to greater self-sufficiency with dignity and respect. It is one of the largest social services agencies in Westchester County and has been fulfilling its mission since 1979 through the operation of eight community-based programs. The agency serves 4,000 men, women and children each year providing 140,000 meals to the hungry and 28,000 nights of shelter to the homeless.