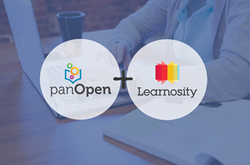 [Faculty] can now use robust digital learning tools to support customizable open content.
New York and Sydney (PRWEB) April 26, 2017
panOpen and Learnosity announced today that they have partnered to integrate the full suite of Learnosity's assessment and homework capabilities into panOpen's Open Educational Resources-based learning platform. The first of its kind, this partnership creates a resource that preserves the low cost and flexibility of open content while offering advanced digital tools that have previously been reserved for commercially copyrighted content.
The announcement marks a significant step towards the maturation of OER, supporting a clear path toward mainstream use of such content. "Faculty have faced a stark choice between the low cost and flexibility of OER and digital learning tools that come with the high cost of commercial content," noted panOpen founder and CEO Brian Jacobs. "This partnership resolves that tension. Faculty no longer need to choose. They can now use robust digital learning tools to support customizable open content."
Beyond increasing the capabilities for the subject areas already in the OER platform, the integration of Learnosity allows panOpen to expand homework and assessment capabilities into virtually any subject area, including all areas of STEM education where demand for open content is highest.
"A key part of Learnosity's mission is to foster collaboration and increase access to quality technology and content in the edtech sector," said Gavin Cooney, CEO of Learnosity. "We're seeing a profound change in the marketplace for educational materials with new models for content production and delivery being created. OER is emerging as an important option for educators and Learnosity is proud to partner with panOpen to deliver on the promise of open content."
In addition to the Learnosity assessment capabilities panOpen provides curated, peer-reviewed and institutionally-branded OER libraries, tools for customization, editing, sharing, and collaboration, as well as communication features and analytics to support use of open content. The company also offers support services, such as instructional design, a marketplace for Creative Commons copyright holders to generate revenue from their works, and a means to help faculty bring their own content into widespread use and collaboration.
About Learnosity
Learnosity is an award-winning educational technology company that offers a suite of assessment technologies (APIs) which enable organizations from a wide range of sectors to easily incorporate powerful, interactive assessment capabilities into any digital product, new or existing. With intuitive authoring, powerful analytics, and over 55 Technology Enhanced Items (TEIs), Learnosity shortens development cycles, effort, and time to market without sacrificing quality or value. Learnosity works with many of the top names from K-12 and higher education, as well as test preparation and corporate training and learning institutions and has dedicated offices in Dublin, New York, Sydney, and Los Angeles.
About panOpen
Designed by educators, panOpen is a learning platform that realizes the promise of OER by providing all of the components required for its widespread use. panOpen offers complete peer-reviewed content, customization tools, assessment, analytics, LMS integration, and a means of financially sustaining campus-based OER efforts. With panOpen, faculty adopt enhanced interactive OER as they would a commercial textbook, with confidence in the quality and reliability of the content. panOpen preserves the virtues of OER—radically reducing textbook costs and freeing faculty from the constraints of commercial copyright—while delivering the quality, features, and ease-of-use faculty expect from their learning materials. The result has enormous implications for pedagogical practices, changing the relationships of instructors and students to their educational content.
For more information on Learnosity: visit learnosity.com or contact media(at)learnosity(dot)com
For more information on panOpen: contact Gary LaRosa glarosa(at)panopen(dot)com and visit panopen.com to request a demo or call 844-200-1511