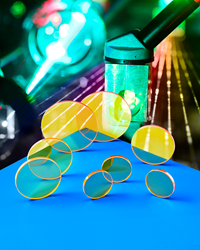 Providence, RI (PRWEB) April 26, 2017
Laser Research Optics has announced that they manufacture zinc selenide (ZnSe) optics to OEM specifications for a wide range of optical components in spectrometers and other instruments.
Laser Research ZnSe Optics can be custom manufactured in sizes from 0.5" to 5" O.D. with dimensional tolerances ranging from ±0.001" to ±0.005", depending upon configuration. Supplied in round, rectangle, and square shapes as plano-convex, plano-concave, and wedged-windows, they can be coated to achieve specific wavelengths from 7 to 11 microns.
Featuring 10 waves to 1/10th wave flatness and 10-5 to 80-50 scratch-dig surface finishes, Laser Research ZnSe Optics are available in 3 mm to 6 mm typical thickness and meet ISO-10110 specifications. To meet custom design requirements and facilitate mounting, they can include steps, holes, and other specific design features.
Laser Research ZnSe Optics are priced according to configuration, material, and quantity. Price quotations are available upon request.
About Laser Research Optics
Laser Research Optics is a division of Meller Optics, Inc., a leading manufacturer of hard crystalline materials such as ruby and sapphire since 1921. The company maintains one of the largest inventories of stock CO2 optics in the country. Available for immediate delivery, the optics are ideal for direct field replacement in low power CO2 lasers currently being used for laser marking, laser engraving, laser cutting, and low power scribing and welding.
For more information contact:
Laser Research Optics
A Division of Meller Optics, Inc.
Scott Rouillard, Sales Manager
120 Corliss St.
Providence, RI 02904
(888) 239-5545 FAX (401) 331-4004
e-mail: scott(at)laserresearch.net
http://www.laserresearchoptics.net