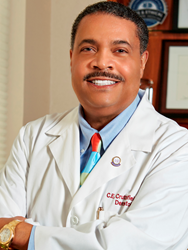 "At Crutchfield Dermatology, I see every patient personally. We specialize in medical dermatology such as acne, psoriasis, eczema, vitiligo and ethnic skin-of-color concerns."
Eagan, Minnesota (PRWEB) April 27, 2017
As time is taken to honor the past, it's just as important to recognize the present and prepare for the future. Essence magazine gathered a list of the black beauty insiders whose talents and know-how are shaping the industry. Charles E. Crutchfield III, M.D. was listed among these movers and shakers who should definitely be on the radar as they are guaranteed to go down in black beauty history.
Dr. Crutchfield is building what he calls, "the Nordstrom of skin care." Not only does his dermatology center off skin treatments, but they also focus on hair and nail disorders, providing the finest medical staff in the country for all clients. http://www.essence.com/galleries/24-influencers-making-black-beauty-history-now?iid=sr-link2
Dr. Crutchfield had also received the Essence "stamp of approval" as a top dermatologist for their feature Dr. Spotlight. "Crutchfield scores high marks for specializing in ethnic skin care, acne, psoriasis, pediatric dermatology, eczema, vitiligo and keloids."
http://www.essence.com/2014/04/10/how-find-good-dermatoligist?iid=sr-link1
About Charles E. Crutchfield III, MD:
Charles E. Crutchfield III, M.D. is a graduate of the Mayo Clinic Medical School and a Clinical Professor of Dermatology at the University of Minnesota Medical School. Dr. Crutchfield is an annual selection in the "Top Doctors" issue of Mpls. St. Paul magazine. He is the only dermatologist to have been selected as a "Best Doctor for Women" by Minnesota Monthly magazine since the inception of the survey. Dr. Crutchfield has been selected as one of the "Best Doctors in America," an honor awarded to only 4% of all practicing physicians. Dr. Crutchfield is the co-author of a children's book on sun protection and dermatology textbook. He is a member of the AΩA National Medical Honor Society, an expert consultant for WebMD and CNN, and a recipient of the Karis Humanitarian Award from the Mayo Clinic School of Medicine.
Crutchfield Dermatology is a proud member of Doctors for the Practice of Safe and Ethical Aesthetic Medicine (DPSEAM). DPSEAM is limited to board-certified physicians who maintain the appropriate physician - patient relationship by having a medical director or licensed physician on site during all treatments including laser and injection services, require that a qualified physician examines every patient before the initial treatment or course of treatment, analyze patients' pre-existing conditions or contradictions that would render the procedure unsafe or ineffective, create care plans that demonstrate how and why patients will benefit from planned procedures, and maintain an environment where patients feel free to ask questions and secure additional information about expected outcomes, among other requirements that protect cosmetic patients.
Crutchfield Dermatology is located at 1185 Town Centre Dr., suite 101, Eagan, Minnesota. Please call 651-209-3600 for more information, or visit their website at http://www.crutchfielddermatology.com