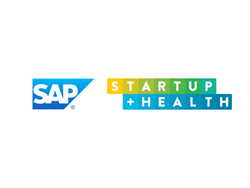 New York, NY (PRWEB) April 26, 2017
StartUp Health, which is organizing and supporting a global army of Health TransformersTM, announced an agreement with SAP, the world leader in enterprise applications in terms of software and software-related service revenue. The agreement includes collaboration between StartUp Health's global army of Health Transformers with the SAP Health division to help power breakthroughs in healthcare and improve patient outcomes. The cooperation will bring together the strength of the two organizations to help support the development of new health-tech innovations through design, implementation and operation of a SAP-sponsored innovation program within the StartUp Health Moonshot Academy. The aim is to further StartUp Health's mission to achieve 10 health moonshots focused on improving the health and wellbeing of everyone in the world.
Together, StartUp Health and the SAP Health division plan to build a custom innovation portfolio, starting with up to 15 digital health startups focused on developing new applications and platforms to be used with the SAP® Health platform built on SAP Cloud Platform. It is planned for entrepreneurs from both StartUp Health's Moonshot Academy and StartUp Health's Network of more than 130,000 entrepreneurs, industry leaders and innovators to apply starting in mid-May.
"SAP cloud technologies have revolutionized numerous industries, and we are inspired by the company's vision and long-term commitment to making an impact on health," said Steven Krein, co-founder and CEO of StartUp Health. "Working with SAP is an extraordinary opportunity for the world's Health Transformers to get access to SAP's technology, platforms and expertise. Together we can make a significant impact by supporting the entrepreneurs who are focusing on achieving health moonshots."
"We believe that connecting SAP Health with StartUp Health's global network of entrepreneurs is a significant opportunity for the healthcare industry," said Thomas Laur, global president of the SAP Health division. "We expect this initiative to help empower entrepreneurs passionate about shaping the future of health to deliver digital solutions on a more robust and secure cloud platform. Fundamentally, we believe this collaboration between SAP Health and Startup Health will help contribute to the acceleration of innovation in our industry."
About StartUp Health
In 2011, StartUp Health introduced a revolutionary new model for transforming health by organizing and supporting a global army of entrepreneurs called Health TransformersTM. The Company has identified and is investing in 10 Health Moonshots, with the long-term goal of improving the health and wellbeing of everyone in the world. These include: Access to Care; Cost to Zero; Cure Disease, Cancer; Women's Health; Longevity; Mental Health; Brain Health; Nutrition, and Children's Health. With the world's largest digital health portfolio (nearly 200 companies spanning five continents, 18 countries and 60+ cities), StartUp Health's long-term platform for entrepreneurs includes the StartUp Health Academy, StartUp Health Network, StartUp Health Media and StartUp Health Ventures. Founded by Steven Krein and Unity Stoakes, StartUp Health is chaired by former Time Warner CEO Jerry Levin. Notable strategic partners and investors include AARP; Aurora Health Care; California Health Care Foundation; Children's Hospital Colorado; University of Colorado; UCHealth; Steve Case; Mark Cuban; Esther Dyson; Brad Feld; Genentech; GE Ventures; Janssen Research & Development, ; Kaiser Permanente Ventures; Robert Wood Johnson Foundation, SAP, and SeventySix Capital. To learn more, please visit http://www.startuphealth.com.
SAP and SAP products and services mentioned herein as well as their respective logos are trademarks or registered trademarks of SAP SE (or an SAP affiliate company) in Germany and other countries. See http://www.sap.com/corporate-en/legal/copyright/index.epx for additional trademark information and notices. All other product and service names mentioned are the trademarks of their respective companies.
SAP Forward-looking Statement
Any statements contained in this document that are not historical facts are forward-looking statements as defined in the U.S. Private Securities Litigation Reform Act of 1995. Words such as "anticipate," "believe," "estimate," "expect," "forecast," "intend," "may," "plan," "project," "predict," "should" and "will" and similar expressions as they relate to SAP are intended to identify such forward-looking statements. SAP undertakes no obligation to publicly update or revise any forward-looking statements. All forward-looking statements are subject to various risks and uncertainties that could cause actual results to differ materially from expectations The factors that could affect SAP's future financial results are discussed more fully in SAP's filings with the U.S. Securities and Exchange Commission ("SEC"), including SAP's most recent Annual Report on Form 20-F filed with the SEC. Readers are cautioned not to place undue reliance on these forward-looking statements, which speak only as of their dates.