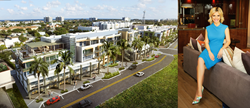 We are delighted to be able to offer a free ticket to this year's White House Correspondents' Dinner, which has been one of Washington's most time-honored traditions for nearly a century," said Senada Adzem, principal and founder of the Senada Adzem Team
Delray Beach, FL (PRWEB) April 25, 2017
Ideally located in the heart of Atlantic Avenue, The Metropolitan — a new 48-unit luxury residential condominium that launched pre-sales in March and is already 20% pre-sold — has been widely acknowledged as one of the most exciting residential projects in downtown Delray Beach to date.
And it doesn't end there. To celebrate this milestone, the Senada Adzem Team of Douglas Elliman, which is handling the exclusive sales and marketing, is announcing today a unique signing bonus. For every new closing contract that is completed by this Saturday, April 29, they will be giving the buyer one free ticket to this year's White House Correspondents' Dinner in Washington, D.C.
Being held at the Washington Hilton on Saturday, and with entertainment provided by The Daily Show special correspondent Hasan Minhaj, the awards at this year's annual dinner will be presented by Washington Post journalism icons Bob Woodward and Carl Bernstein.
"We are delighted to be able to offer a free ticket to this year's White House Correspondents' Dinner, which has been one of Washington's most time-honored traditions for nearly a century," said Senada Adzem, principal and founder of the Senada Adzem Team of Douglas Eliman. " The 2017 dinner promises to be no different and could well be one of the most historic ever."
Adzem added: "It also provides a rare opportunity for new residents of The Metropolitan to gather, mingle, share some laughs, and hopefully form lasting friendships as they prepare to become neighbors."
"The luxury market in Delray Beach continues to rapidly grow and become an increasingly popular destination to visit, live and work," said Jay Phillip Parker, CEO of Douglas Elliman's Florida Brokerage. "The combination of Douglas Elliman's strength and The Senada Adzem team's experience will make this building a success."
About The Metropolitan
One of the most exciting residential projects to date in Delray Beach, The Metropolitan fuses luxury, sophistication and art at the heart of "The Ave". Designed by renowned Delray-based firm, Richard Jones Architecture, The Metropolitan is a five-story boutique building boasting tropical modern elements and retro-influenced, avant-garde aesthetics located at 33 SE 3rd Avenue in Delray Beach.
Sophisticated and luxurious living spaces are designed by V*Starr Interiors by Venus Williams blending earth tones and contemporary finishes. "The Metropolitan is such a unique project. The vibrancy of the community features art & fashion which are both reflected in my vision and sophisticated design," said Venus Williams.
Eight different interior floor plans ranging in size offer a unique residence for the discerning buyer with sophisticated designer finishes and contemporary details. Residences offer expansive balconies, large spacious terraces and soaring ceilings. Premium units will feature even more outdoor living space than interior space.
Completion is expected for late summer 2018.
Buyers interested in The Metropolitan are encouraged to schedule an appointment at the temporary sales office at 55 SE 2nd Avenue, Delray Beach by contacting Senada Adzem and her Douglas Elliman Sales Team at (917) 657-2840. More information can also be found at http://www.SoDelray.com.