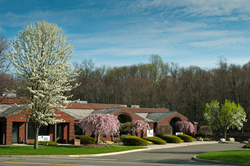 Bethel, CT (PRWEB) April 26, 2017
Connecticut-based leading critical power service company Quality Uptime Services (QUS) has expanded their corporate headquarters with a move to the Berkshire Corporate Park in Bethel, Conn. The office is incorporated into Berkshire's 300 park-like acres and is Northern Fairfield County's leading corporate park. Adding to the park experience is Duracell's headquarters, which is perched on top of a beautiful wooded hill.
The move encompasses 10,600 sq. ft. of mixed office and warehouse space. Quality Uptime Services is one of the nation's leading independent critical power service organizations. Supporting a national client base across all industries, Quality Uptime Services provides UPS and battery maintenance as well as emergency services.
"The relocation and consolidation of back-office and training functions in the new Bethel, Conn. facility allows for greater efficiency and coordination among QUS personnel. This ultimately enhances the customer experience, the end goal of all strategic shifts in the business," says Ben Caiola, VP Finance and CFO.
"We were excited for our team to move into a new space that provides for upgraded offices, a more efficient work environment and an improved training facility, assuring our continued growth in the critical power service industry," states John Raio, the President of Quality Uptime Services.
The expansion includes a separate training suite for Quality Uptime University where QUS provide hands-on training on all UPS OEM equipment to their field service engineers and clients. Quality Uptime University offers training to clients in mastering their own mission critical assets. UPS First Responder Training covers understanding the application, operation and first responder troubleshooting of UPS systems and storage batteries. UPS 101 Training provides in-depth instruction tailored to both non-technical and technical operators.
For more information on how Quality Uptime Services can help you with UPS and battery maintenance, visit http://www.qualityuptime.com or contact Frank Monticelli, Director of Sales at Quality Uptime Services, at (917) 971-6234.