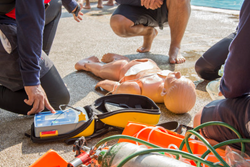 "I've been very fortunate in helping protect multiple families from loss. I have my CPR training to thank for that.
Atlanta, GA (PRWEB) April 27, 2017
Are you investing in the safety of your friends and family? Each year, there is a tragic spike in water-related accidents and drownings during the summer. While most of us assume this type of accident will never happen to us, the tragic reality is that these situations occur every day. Very few people are taking the time to learn how to respond effectively or prevent these accidents from occurring in the first place.
Across the country, a staggeringly low number of individuals are CPR-certified or trained in first aid. When an accident strikes, every second counts. Because time is the most valuable resource, one of the most effective ways to combat water-related accidents is to ensure that bystanders are equipped with the life-saving skills they need.
According to Collin Sanders at CPR Training Source, "There is a drastic need for the public to take CPR certification seriously." At the same time, Sanders notes that enrollment at his training center has increased in recent years. "Luckily, we're starting to see more families and businesses take steps to get certified, which is a huge investment in public safety," says Sanders.
Learning From The Statistics
Each summer, there are several thousand drowning deaths. Of that number, a large portion of these victims are under the age of 14. According to public safety experts, most child drowning incidents occur in backyard pools where a lifeguard isn't present.
Public health officials assert that the best way to prevent future childhood drowning incidents is to approach the problem in two ways: adequate prevention and qualified response.
As a preventative measure, parents should be taking steps to ensure that children are always supervised near pools, lakes, and other water areas. Parents should also ensure that pools, hot tubs, and other facilities are properly gated to prevent unsupervised access. Swimming lessons from an early age are also a step in the right direction, according to the American Red Cross. These are some examples of preventative strategies.
Despite our best efforts though, there are still times when accidents strike, in which case parents need to be equipped with an adequate response. This is where the value of CPR certification becomes important.
According to Atlanta lifeguard Miller Barnett, "I can't stress the value of CPR certification enough." Barnett has responded to multiple drowning incidents since his time as a lifeguard, but has approached each situation with the rapid, delicate response it deserves. "I've been very fortunate in helping protect multiple families from loss. I have my CPR training to thank for that."
Getting Certified
Residents across the Atlanta area are turning to AHA-certified locations like CPR Training Source to get prepared for the summer. Instructor-led courses are one of the quickest and most effective ways to learn this life-saving skill. For the upcoming 2017 new course schedule, visit their website.
To enroll in a course or find a training facility near you, visit the organization's website or call (770) 565-2996.