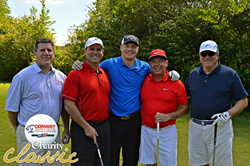 Memphis, TN (PRWEB) April 27, 2017
Conway Services, the Mid-South premier HVAC and plumbing company, was proud to be the presenting sponsor of the second annual Conway Services Charity Classic, benefitting the Juvenile Diabetes Research Foundation (JDRF) West TN Chapter. The golf classic took place Monday, April 24th at noon, at the Ridgeway Country Club, and all proceeds benefitted JDRF. The tournament raised over $123,000 for the cause.
Conway Services is a service provider in the network of branches under Memphis-based American Residential Services (ARS). Since 2013, Dave Slott, ARS Chief Executive Officer, has served as a board member for the non-profit.
"For several years, we have sponsored JDRF's fundraising programs, and our employees participate in the annual JDRF One Walk. We are proud to amplify our support in raising funds for ground-breaking research to turn Type One into Type None," said Slott.
JDRF, founded in 1970 by parents of children with Type 1 diabetes, is the leading global organization focused on type 1 diabetes (T1D) research. T1D is the most severe type of diabetes, affecting as many as three million Americans. T1D may occur in both children and adults, and it typically has nothing to do with diet or lifestyle. It is currently not a preventable disease.
"That is why we need help funding research," said Russ Ellis, Executive Director of JDRF-West TN Chapter. "With the generous help of Conway Services, ARS, and our supporters, JDRF is pursuing a diversified, dynamic research agenda aimed at moving us ever closer to a world without T1D."
ABOUT ars.com [AMERICAN RESIDENTIAL SERVICES __title__ American Residential Services]: Based in Memphis, Tenn., privately-owned ARS operates a network of more than 70 locally-managed service centers in 23 states, with approximately 6,500 employees. The ARS network features industry-leading brands including, A.J. Perri, Aksarben ARS, Allgood, Andy's Statewide, ARS, Aspen Air Conditioning, Atlas Trillo, Beutler, Blue Dot, Brothers, Columbus Worthington Air, Comfort Heating & Air, Conway Services, Efficient Attic Systems (EAS), Florida Home Air Conditioning, Green Star Home Services, McCarthy Services, Rescue Rooter/ Proserv, Rescue Rooter, RighTime Home Services, RS Andrews, The Irish Plumber, Unique Services, "Will" Fix It, and Yes! Air Conditioning and Plumbing. United by Exceptional Service®, the ARS / Rescue Rooter Network serves both residential and light commercial customers by providing heating, cooling, indoor air quality, plumbing, drain cleaning, sewer line, radiant barrier, insulation and ventilation services. Each location has a knowledgeable team of trained specialists, who have undergone rigorous drug testing and criminal background checks. Providing exceptional service and ensuring the highest standards of quality, ARS has the experience to do any job right – the first time, with all work fully guaranteed.
###