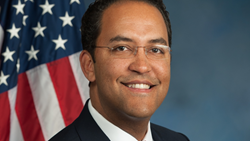 Silver Spring, Md. (PRWEB) April 25, 2017
The Security Industry Association (SIA) today announced Rep. Will Hurd, R-Texas, as a keynote speaker for its 2017 SIA GovSummit.
Attend the 2017 SIA Government Summit to join the conversation between public policymakers and private business leaders on security policy developments on issues including biometrics, border security, cybersecurity, and other matters. The 2017 SIA GovSummit is scheduled for June 28-29, 2017, at The Liaison Capitol Hill (415 New Jersey Ave. NW, Washington, D.C. 20001).
Registration for the SIA Government Summit is open online at http://www.securityindustry.org/summit.
Born and raised in San Antonio, Texas, Hurd attended John Marshall High School and Texas A&M University, where he majored in Computer Science. After college, Hurd served as an undercover officer in the CIA in the Middle East and South Asia for nearly a decade. Upon leaving the CIA, he became a senior advisor with a cybersecurity firm, covering a wide range of complex challenges faced by manufacturers, financial institutions, retailers and critical infrastructure owners.
In 2015, Hurd was elected to the 114th Congress and currently serves on the Committee of Oversight and Government Reform and chairs the Information Technology Subcommittee. He also sits on the Committee on Homeland Security, and he is the Vice Chair of the Border and Maritime Security Subcommittee. In 2017, Speaker Paul Ryan appointed Hurd to serve on the House Permanent Select Intelligence Committee.
As representative for the Texas 23rd congressional district, Hurd represents a stretch of 800 miles from San Antonio to El Paso, along the U.S.-Mexican border.
The 2017 SIA GovSummit, to be held June 28-29 at The Liaison Capitol Hill, brings together all facets of the security industry: executives, integrators, sales and marketing, and government relations professionals. Scheduled panel discussions will explore issues including federal acquisition priorities, federal R&D partnership opportunities, infrastructure protection technology, identity management and access control, and Internet of Things cybersecurity, among other topics.
Special discounts for early bird registration are available through June 2. Special rates also are available at The Liaison Capitol Hill. Qualified government end users and members of the press can register for free. For more information, visit http://www.securityindustry.org/summit.
Qualified reporters are invited to attend the 2016 SIA Government Summit free of charge. Reporters and editors, contact Mickey McCarter, SIA manager of communications, at 301-804-4704 or mmccarter(at)securityindustry(dot)org to attend.
About the Security Industry Association
The Security Industry Association (SIA) (http://www.securityindustry.org) is the leading trade association for global security solution providers, with more than 750 innovative member companies representing thousands of security leaders and experts who shape the future of the security industry. SIA protects and advances its members' interests by advocating pro-industry policies and legislation at the federal and state levels; creating open industry standards that enable integration; advancing industry professionalism through education and training; opening global market opportunities; and collaboration with other like-minded organizations. As a proud sponsor of ISC Events expos and conferences, SIA ensures its members have access to top-level buyers and influencers, as well as unparalleled learning and network opportunities. SIA also enhances the position of its members in the security marketplace through SIA Government Summit, which brings together private industry with government decision makers, and Securing New Ground®, the security industry's top executive conference for peer-to-peer networking.