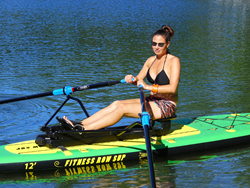 "We designed and built these three new SUP models to fill a niche where an ideal dual purpose shape and design makes sense," says designer and Whitehall's co-owner Harold Aune,
Victoria, BC (PRWEB) April 27, 2017
The new Adventure Row and Fitness Row standup paddle boards from Whitehall Rowing & Sail, the company who produces the Oar Board® rower, now makes the sport of rowing affordable and accessible.
Four years ago, Whitehall Rowing & Sail, located in Victoria BC and manufacturer of the world's finest rowing and sailing boats, invented a device called the Oar Board®. This device is a game changer because it easily and quickly attaches to any standup paddleboard, instantly converting it into a single scull rowboat. The Oar Board® unit is very light and folds up compactly for shipping. This makes it quick to set up, and easy for owners to store, handle and carry as well.
Whitehall also developed a two-part sculling oar that can be easily shipped along with the Oar Board® unit. Regular sculling oars are 9'6" long and therefore cannot be shipped easily or inexpensively. The two-part carbon fiber oars are half the length of a regular oar plus ultra-light so they can be shipped by mail or any courier service.
Recently Whitehall designed a line of three new SUPs intended for paddling or rowing that are extremely tough. They are inflatable and can roll up and fit in a backpack. These lightweight inflatable SUPs can handle drops, scrapes and impacts far better than a fragile foam filled fiberglass board. They too can be easily shipped anywhere. Now fully in production, the 13'4"Adventure Row, the 16'Adventure Row, and the 12' Fitness Row, are now being shipped to customers worldwide along with the Oar Board® and oars.
"We designed and built these three new SUP models to fill a niche where an ideal dual purpose shape and design makes sense," says designer and Whitehall's co-owner Harold Aune, "SUPs that can be rowed or paddled, are stable and intended for new or experienced rowers and paddlers to enjoy."
Because SUPs are inherently quite stable, new rowers can teach themselves the basics of rowing without the fear of going for an unexpected swim as in a typical tippy narrow rowing shell. And they can handle wind and waves much better. Rowing an SUP is definitely not like crawling along in your grandfather's heavy old rowboat. Whitehall has even produced several free online videos on 'How to Row' for people to teach themselves rowing skills.
The fitness benefits of both outdoor rowing in boats, and indoor rowing on rowing machines, are very well documented. Fitness instructors, cross trainers, and athletes all agree, rowing is one of the best ways to stay fit without stressing joints and connective tissues.
The Oar Board rower will strap onto any SUP however special deck rings installed on the Adventure and Fitness Row SUPs allow the Oar Board® unit to be mounted or removed in a couple of minutes. The option to row or paddle or even do yoga is immediately accessible. The Adventure Row 16' model allows two rowers to scull together or can carry camping gear for long distance exploration strapped in place in dry bags on deck.
The first SUP production run was sold out even before completion. "This is a good problem to have." states Sales Manager, Diana Lesieur. "We just returned from displaying at the Cottage Life Show in Toronto where cottagers were really excited about getting into sculling in such a convenient way." Whitehall's online Oar Board® store has now sold and shipped product into 42 countries around the world.
With the trend towards fitness and outdoor activities growing exponentially every year, and the sport of paddle boarding virtually exploding in size worldwide, fitness rowing is now being added to the mix. Adventure rowing with an Oar Board® SUP combination adds a fun dimension to being on the water staying fit while breathing fresh clean air.
Facebook: oar board sup fit on top rower