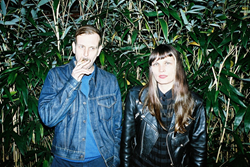 Fairfield, CT (PRWEB) April 26, 2017
The Emerging Artist Series launches on May 18 with synth-pop duo Xeno and Oaklander at Fairfield Theatre Company's most intimate space, StageOne.
As said by BrooklynVegan, "These two perform like the last three decades never happened, strictly analogue, with piles of vintage gear strung together with patch cables. Squint and you might think you've been transported back to Sheffield, England circa 1979."
Miss Liz Wendelbo is French/Norwegian and Sean McBride is from Maryland. They record their songs live in their Brooklyn studio and exclusively play analogue synthesizers and instruments. The duo has toured Europe and the US numerous times, and they play extensively in New York music venues, lofts and festivals. Wendelbo is married to Egan Frantz and will be moving to Southport, Conn. this summer.
Since 2004, FTC has brought artists from all genres and walks of life to their multiple stages. From The Lumineers to Conor Oberst to First Aid Kid, these artists have all performed on StageOne just moments before hitting the mainstream. The Brody Wilkinson Emerging Artist Series will bring more of these on-the-rise artists to Connecticut. Contributing member of the committee and curator of this series is renowned indie-rock producer Peter Katis. He most notably produced The National's last two albums and co-produced Trey Anastasio of Phish's 2012 solo album, Traveler.
Chris Frantz, Tina Weymouth, and Xeno and Oaklander invite ticket holders to a pre-show meet & greet. For more information on the show and series, visit fairfieldtheatre.org.
About Fairfield Theatre Company:
Fairfield Theatre Company is a highly-acclaimed non-profit performing arts organization located in the heart of downtown Fairfield. FTC presents over 300 concerts and events each year featuring outstanding national talent at FTC's StageOne and at The Warehouse. FTC's venues are widely recognized as being the best places to see live performances in the region. FTC's mission is to connect and enrich the community through the transforming power of the arts. For more information, go to fairfieldtheatre.org.