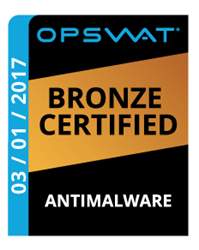 Endurance Antivirus is compatible with leading access control solutions and will be listed on the OPSWAT website as a certified anti-malware application.
San Francisco, CA (PRWEB) April 26, 2017
Endurance Antivirus, an anti-malware solution offered by Edelweiss, has been awarded Bronze certification for the Anti-malware category by the OPSWAT Certified Security Application Program. Originally launched in 2007, OPSWAT's certification program currently supports over 1,000 applications from various anti-malware engines to ensure their compatibility with all leading access control solutions, their detection quality, and their false positive responsiveness.
Endurance Antivirus is an anti-malware solution from Romanian technology company Edelweiss. Edelweiss is constantly working hard on making the Endurance Antivirus application better and more useful for their users. OPSWAT certified Endurance Antivirus after determining it met a number of strict criteria established by OPSWAT, and Endurance Antivirus will now be listed as an OPSWAT Bronze Certified security application.
The OPSWAT Certified Security Application Program helps endpoint security applications vendors certify regularly. IT administrators can browse OPSWAT's list of certified applications to find effective, compatible applications for their security stack. The certification program was first developed after gathering compatibility requirements from over 50 OPSWAT OEM customers.
Cristina Stet, Certification Manager at OPSWAT, said, "We're excited to announce the Bronze-level certification of Endurance Antivirus. This anti-malware solution from Edelweiss is compatible with leading access control solutions and will be listed on the OPSWAT website as a certified anti-malware application."
Edelweiss and OPSWAT encourage all cyber security solution vendors to learn more about the OPSWAT Certified Security Application Program, and to certify their latest versions prior to public release. OPSWAT recommends that IT administrators check OPSWAT's index of certified security applications before buying a new solution.
About Endurance Antivirus
Endurance Antivirus scans all files and folders in a user's system thoroughly. Its scanning engine has passed all the EICAR test files and detects over 4 million kinds of malware. With the advancement of technology and the internet era, it is very likely that systems can get infected quickly, corrupting the device. Viruses can attack a system in any form, which makes it necessary to keep all files safe and uncorrupted. Endurance Antivirus has an intuitive user interface with great performance. The app quickly performs a thorough scan of all the files in a system. Upcoming releases will also focus on a new look for the product with more usability options, along with features to detect new viruses. Download the app and keep systems constantly protected from malware. The antivirus app is daily updated to detect new malware. Stay updated and stay protected with Endurance Antivirus.
About Edelweiss
Based in Bistrita, Romania, S.C. Edelweiss SRL has over a decade of experience developing its products. Edelweiss develops and sells Endurance Antivirus, which is available on the Mac App Store and through MacUpdate.
About OPSWAT
OPSWAT is a San Francisco-based cyber security software company that provides solutions to secure and manage IT infrastructure. Founded in 2002, OPSWAT has delivered solutions and technologies that protect organizations from threats and secure digital data for over a decade. OPSWAT combines next-generation Content Disarm and Reconstruction technology, its cutting-edge Vulnerability Engine, and multi-scanning with over 30 anti-malware engines in its Metadefender suite of products, and its OESIS Framework endpoint security SDK has helped secure over 200 million endpoints. To learn more about OPSWAT, visit OPSWAT.com.