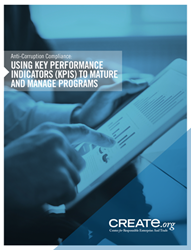 "Increasingly, boards and senior management want compliance teams to monitor and measure anti-corruption programs to ensure effectiveness," stated Leslie Benton, Vice President, CREATe.org
Washington, DC (PRWEB) April 27, 2017
For organizations looking to measure and improve anti-corruption programs, CREATe.org today launches a new whitepaper: Anti-Corruption Compliance: Using Key Performance Indicators (KPIs) to Mature and Manage Programs.
Key performance indicators (KPIs) and other metrics are often used to measure business performance against concrete, quantifiable targets to help ensure that objectives are being met. In this whitepaper, CREATe.org adapts the KPI approach – typically used for finance or sales – to anti-corruption programs, enabling organizations to determine whether programs are being implemented effectively.
The whitepaper offers insights into:

How to develop KPIs: useful categories to use when developing metrics and KPIs.
Ways to evolve KPIs with program maturity: using a five-point scale to identify the current maturity of a company's anti-corruption compliance program, and identifying concrete steps to improve programs.
Examples of relevant KPIs and metrics across a number of business process categories: a deep dive into mapping KPIs to 'policies and procedures,' 'risk assessment,' 'training and capability building,' and 'corrective actions and improvements.'
Ensuring that KPIs and metrics do not incentivize unwanted behavior.
"Increasingly, boards and senior management want compliance teams to monitor and measure anti-corruption programs to ensure effectiveness," stated Leslie Benton, Vice President, CREATe.org and a drafter of the ISO 37001 Anti-Bribery Management Systems Standard. "Developing relevant KPIs and supporting metrics not only helps to track progress, but is also critical to creating an environment of expectations that support a company's strategic compliance objectives."
The whitepaper is available to download at https://create.org/resource/anti-corruption-compliance-using-kpis-mature-manage-programs/
About the Center for Responsible Enterprise And Trade (CREATe.org)
The Center for Responsible Enterprise And Trade (CREATe.org) is a non-governmental organization (NGO) with a mission to promote leading practices in anti-corruption, cybersecurity, trade secret and intellectual property (IP) protection.
To achieve this mission, CREATe.org conducts a range of activities – from publishing reports and whitepapers, working with leading practitioners and experts through Advisory Councils, and contributing insights to a range of publications and events – designed to provide practical resources to educate organizations about the leading approaches to managing risk and improving governance and compliance.
CREATe.org launched its wholly-owned subsidiary, CREATe Compliance, to work directly with enterprises on the use of the CREATe Leading Practices services. In addition, CREATe Compliance provides advisory services and other guidance.
For information about CREATe.org, visit: http://www.CREATe.org or email: info(at)CREATe(dot)org. Please follow us on Twitter @CREATe_org or connect with us on LinkedIn.