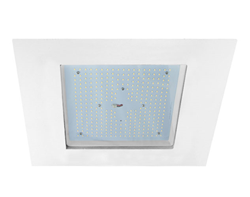 Strong, reliable lighting is needed for any business that wants to do well. This is why we have constructed this lay-in 2x2 troffer mount LED fixture to not only provide versatile power connection, but also an IP65 waterproof protection ratin
Kemp, TX (PRWEB) April 26, 2017
Larson Electronics LLC, a leading industrial lighting company, announced the release of a new lay-in 2x2 troffer mount LED fixture to be added to its catalog of products this week. This lay-in LED fixture is designed to be a powerful lighting solution for general area lighting systems and commercial, indoor spaces.
The GAU-LI-24-U16-LED-DIMM-WCM lay-in 2x2 troffer mount LED fixture runs on common 120-277V AC voltages, which can be found in most mainstream facilities and buildings. During operation, this LED light emits 14,952 lumens with a color temperature of 5,000K and a CRI rating of 80+. A dimmable, electronic driver supports the unit for robust control of light output. This IP65 rated LED lamp is constructed of die cast aluminum with a powder coat finish over a chromate conversion coating. A clear flat glass lens ensures transparency during illumination. This fixture is designed for recessed mounting and requires a mounting hole to be made in the ceiling or preferred surface. This LED fixture is ideal for use in gas stations, commercial spaces, lobbies, schools, and more.
Other features include:

IP65 Waterproof Rated
Listed for Wet Locations
Dimmable Electronic Driver
3 Year Warranty
112-Watts
LED Life Expectancy of 50,000+ Hours
"When we think about heavy-duty, durable lighting, we normally associate it with harsh work environments such as construction zones and such," said Rob Bresnahan, CEO of Larson Electronics LLC."The truth is, strong, reliable lighting is needed for any business that wants to do well. This is why we have constructed this lay-in 2x2 troffer mount LED fixture to not only provide versatile power connection, but also an IP65 waterproof protection rating."
About Larson Electronics LLC: Larson Electronics LLC is a manufacturer of industrial lighting equipment and accessories. The company offers an extensive catalog of industry-grade lighting and power distribution products for the following sectors: manufacturing, construction, food processing, oil and gas, military, marine and automobile. Customers can benefit from the company's hands-on, customized approach to lighting solutions. Larson Electronics provides expedited service for quotes, customer support and shipments.