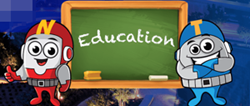 NOVAtime is thrilled to be partnering with these two incredibly talented attorneys to provide a valuable learning opportunity, not only for our customers, but for the entire business owner and HR professional community
Diamond Bar, CA (PRWEB) April 26, 2017
NOVAtime Technology, Inc. (http://www.novatime.com), a leading provider of time & attendance / workforce management solutions, is pleased to announce its two upcoming live webinars: "ADA, FMLA, & Intermittent Leaves", which will take place on May 10th, 2017, and "Employment Law 101", which will take place on May 24th, 2017. NOVAtime is honored to be working with two highly experienced attorneys, Marie Davis, Esq. of the Landegger Baron Law Group and Aaron Holt, Esq. of Alaniz Schraeder, LLP, on these webinars.
"ADA, FMLA, & Intermittent Leaves", which you may register for here, will be presented by Marie Davis, Esq., an expert in employment law and a veteran of the webinar circuit. Ms. Davis is known for providing clear, helpful education in many areas of employment law that are immediately applicable to HR professional and business owner duties. In this webinar, Ms. Davis will explain the common forms of extended leave that are commonly encountered.
Brian Meharry, VP of Business Development at NOVAtime, states, "Ms. Davis' FMLA webinar highlights the need for an FMLA solution such as NOVAtime's FMLA Add-on Module."
"Employment Law 101", which you may register for here, will be presented by Aaron Holt, Esq., who specializes in labor & employment law. In this webinar, Mr. Holt will help attendees navigate the complex, shifting legal landscape of employment law, which even the most seasoned HR professional can lose track of. Topics to be covered include "at will" vs. "right to work", FLSA, FMLA, ADA, Title VII of the Civil Rights act, and other essential legal topics.
"NOVAtime is thrilled to be partnering with these two incredibly talented attorneys to provide a valuable learning opportunity, not only for our customers, but for the entire business owner and HR professional community." Stated Mr. Meharry. Both webinars are eligible for 1 hour of SHRM and HRCI recertification credits. Check here for a complete list of upcoming webinars and other events at NOVAtime..
About NOVAtime
With over 18,000 customers, NOVAtime is headquartered in Diamond Bar, California, and has become the leader in integrating Workforce Management solution with Human Resource and Payroll systems. Known for its scalable and leading-edge software and hardware technology, NOVAtime has been selected as the preferred Time and Attendance / Workforce Management solution provider by many of the best-managed companies in the world.