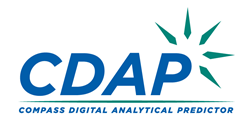 Retailers lose sales every time an out-of-stock occurs. Powershelf and CDAP are the best solution.
Annapolis, Maryland (PRWEB) April 26, 2017
Today Powershelf announced the Compass Digital Analytical Predictor (CDAP), a groundbreaking new software tool designed for consumer goods manufacturers and retailers. CDAP utilizes machine learning and predictive analytics to improve inventory tracking, analyze promotions and discover new operational insights.
Out-of-stocks remain a major challenge for retailers, but CDAP and Powershelf can sharply decrease the number of out-of-stock events. The Powershelf system alerts stores to out-of-stock conditions, while CDAP predicts the best times to reorder products and restock shelves. Integrating CDAP's predictive capabilities with the Powershelf system's prescriptive and preventive approach can reduce out-of-stocks and decrease the cost of lost sales.
"Retailers lose sales every time an out-of-stock occurs," said John White, Chairman and CEO of Powershelf. "Powershelf and CDAP are the best solution. Our prescriptive, preventive and predictive approach eliminates out-of-stocks for both brick-and-mortar and online retailers."
"CDAP is working alongside Powershelf in many of our in-store displays and we've already seen a tremendous decrease in our out-of-stocks," said John Linehan, Executive Vice President of Strategy and Business Development at KING'S HAWAIIAN. "This integration of hardware and software will transform the consumer products industry."
The powerful proprietary algorithms at the heart of CDAP can also help create more effective promotional campaigns. CDAP gathers data from public and proprietary sources to help marketers consider a wide range of factors—including weather, seasonality and time—and better plan their campaigns. When a promotion is running, CDAP encourages optimization by continually measuring return on investment.
CDAP will be featured at Microsoft's invitation-only Digital Difference event on April 26 in New York City. Executives from Powershelf and KING'S HAWAIIAN will be available to demonstrate CDAP and answer questions. Visit http://iotsmartretail.com/PressKit/ for more information.
About Powershelf
Powershelf is a leading provider of retail technology solutions. The patented technology—the Powershelf system—provides constant power and two-way communications to software-enabled applications and devices that deliver a variety of advertising, merchandising and pricing services to customers. Powershelf is designed to address the critical, ongoing challenges faced by retailers and CPG manufacturers around the world. Visit http://iotsmartretail.com/ for more information.