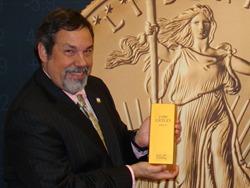 Gold already has performed well so far this year, and it has a good chance of continuing to rise under the Trump administration.
Atlanta, GA (PRWEB) April 26, 2017
How has the Trump administration affected the price of gold? Is it a good time to buy or sell? How can you avoid overpaying when purchasing gold and avoid receiving too little when you sell?
The best ways to buy, sell and store gold and add precious metals to a diversified portfolio will be the topic of a free educational seminar at the National Rifle Association's Annual Meetings & Events (http://www.NRAam.org) in Atlanta, Georgia on Saturday, April 29, 2017. It will be presented by award-winning rare coins and precious metals writer Michael Fuljenz, President of Universal Coin & Bullion (http://www.UniversalCoin.com) in Beaumont, Texas.
The one-hour 8th Annual Freedom First Financial Seminar will be open to the public and begins at 11:00 am in room B-310 in the Georgia World Congress Center in Atlanta, site of the NRA events.
"Gold already has performed well so far this year, and it has a good chance of continuing to rise under the Trump administration in view his plans to significantly increase military spending and because gold tends to rise in the first year of new presidents," said Fuljenz. "We've certainly seen an increase in new customers buying gold as well as existing customers purchasing more since Trump was elected."
Universal Coin & Bullion is the Official Bullion and Rare Coin Expert of NRA Publications. The company will co-sponsor the NRA Prayer Breakfast on Sunday, April 30. The company also will have a display of gold coins at its booth #1142 during the 2017 NRA Annual Meetings & Exhibits. Copies of Fuljenz' acclaimed gold coins reference book, Type Three Double Eagles 1877 – 1907, 2nd Edition, will be available at the booth. It received the Book of the Year Award from the prestigious Numismatic Literary Guild.
In addition to being a Golden Ring of Freedom member, Fuljenz is an NRA Benefactor member and long-time supporter of the NRA's Eddie Eagle Gunsafe® program. He has won more than 60 prestigious national and regional awards and honors for his consumer education and protection work about rare coins and gold and silver. Known as America's Gold Expert®, Fuljenz also has served with distinction as a consultant to the Federal Trade Commission, United States Mint and Royal Canadian Mint, and is on the Boards of Directors of the influential Industry Council For Tangible Assets, Numismatic Literary Guild and Crime Stoppers of Beaumont, Texas. He is a member of the prestigious Professional Numismatists Guild (PNG), is a PNG Accredited Precious Metals Dealer, and received an Honorary Doctorate in Humane Letters from McNeese State University.
For additional information about Universal Coin & Bullion visit http://www.UniversalCoin.com, and for information about the NRA Annual Meetings and Exhibits, visit http://www.NRAam.org.