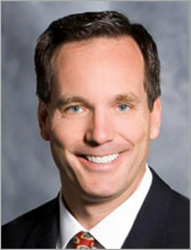 Amplion is poised for tremendous growth in 2017.
Nashville, Tennessee (PRWEB) April 27, 2017
Amplion Clinical Communications Executive Chairman David Condra announced today Frank Grant, Chief Sales and Marketing Officer, will become Amplion's new president effective immediately. Grant's appointment follows the unexpected resignation of CEO Tom Stephenson last week due to personal reasons.
Stephenson joined Amplion in 2012 as President and COO and was elevated to CEO in 2015 as the company began ramping up for rapid growth.
"It has been my pleasure to lead Amplion during this exciting period," Stephenson said. "It was a difficult decision to step down at this time but it was the best decision for me and for the company. I look forward to following the continued growth and success of Amplion." Stephenson will remain involved to assist during a brief transition period. Condra will serve as Interim CEO while an internal and external search is underway for a permanent CEO replacement.
"We are very sorry to see Tom leave Amplion because of the trajectory the company is on, but we understand and support his personal decision," Condra said. "It's never easy to lose a key team member, but we are very fortunate to have deep bench strength on our executive team and will not skip a beat with Frank at the helm."
Grant joined Amplion in 2013 as Chief Sales and Marketing Officer. He brings more than 30 years of healthcare technology experience and a strong history of business growth leadership to his new role at Amplion.
"Frank has been a pivotal member of the executive team since he arrived at Amplion," Condra said. "He has made significant contributions to the overall strategy and direction of the company from day one. His deep industry experience coupled with his solid leadership track record are invaluable as we continue growing the company."
Prior to Amplion, Grant led Phoenix-based Adreima's expansion to 16 states and spent more than a decade in leadership roles at Cisco Systems, serving his last three years there as Executive Director of North American Healthcare.
"Amplion is poised for tremendous growth in 2017," Grant said. "Our next-generation nurse call technology is a game-changer for hospitals and their patients, and I'm eager to lead our innovative team to further expand our national footprint."
Amplion Alert is installed in more than 50 hospitals in 22 states. The privately-held, late-stage start-up is headquartered in Nashville, Tennessee.
About Amplion
Amplion is building a better future for patient care. We combine capabilities in clinical workflow optimization, advanced patient communications technology and in-depth analytics to help organizations make data-driven decisions and create accountability within clinical teams. We close care loops and dramatically improve clinical and financial performance as well as patient and clinician experience. Safer patients. Smarter care. Assured. Learn more at http://www.amplionalert.com