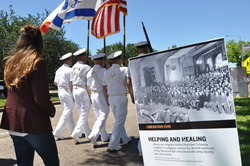 "The Holocaust was not only a Jewish tragedy, but also a human tragedy." Simon Wiesenthal (Jewish Austrian Holocaust survivor, Nazi hunter, and writer.)
Houston, Texas (PRWEB) April 28, 2017
Over 1150 people at March of Remembrance events in southwest Houston, Kingwood, and at Lone Star College April 20-23 heard Holocaust survivors share riveting accounts of how they were rescued from certain death and Hitler's Final Solution. Rosian Zerner and Dr. Zsuzsanna Ozsvath related dramatic tales of heroism on the part of ordinary people who dared to risk their lives to rescue Jews. After a series of harrowing experiences fraught with the constant threat of exposure and capture by the Nazis, both ultimately managed to emigrate from Europe to the United States, where they refused to allow trauma and persecution to hinder them; they both became educated, accomplished individuals who have made significant inroads in Holocaust education and exemplary citizens of the USA.
Repentant Nazi descendants, Bärbel and Anna-Suzette Pfeiffer from Germany told how they discovered that the official story of what Bärbel's grandfather had done during World War II was a lie, and Bärbel explained how the family finally found out the truth. Her grandfather had been directly responsible for wiring ten miles of electrical fence at Auschwitz and for installing the plumbing in the gas chambers there; as such, he had been complicit in the extermination of hundreds of thousands of Jews (and others). On behalf of their forefathers who do not have the opportunity to personally repent to victims' families for their atrocities, Bärbel and her daughter Anna-Suzette tearfully expressed their remorse and asked forgiveness of Holocaust survivors and their descendants, and many former victims, and their families came forward to embrace them.
Because many Holocaust survivors owe their lives to rescuers or liberators, the focus of this year's events was to tell the stories of rescue and celebrate the lives of the two thirds of European Jewry who survived despite Hitler's plans for the Final Solution. Veterans, liberator descendants, and the Texas A&M Galveston Corps of Cadets (including the Honor Guard) participated in the southwest Houston event for the second year in a row; TAMU Galveston's involvement was spearheaded by Professor David Lawhon, history and Holocaust studies professor and director of the honors program. In Kingwood, German-born Professor Thilo Schimmel of Lone Star College spoke about the results of his surveys of student responses to the Holocaust, and LSC students gave brief reports on rescuers from different nations and walks of life. In addition, about 100 students from MacArthur High School (Aldine School District) had the opportunity to hear Bill Orlin before the March weekend, which prompted several of them to attend the Kingwood event and carry flags in the memorial walk portion of the program.
As always, pastors, rabbis and leaders from a wide variety of churches and ministries attended the Marches of Remembrance and participated in the opening and closing services. Presbyterians, Baptists, Methodists, Lutherans, and Catholics were represented, as well as independent evangelical and charismatic congregations. Leaders from Somebody Cares Houston, Aglow International, and other ministries were also at the events.
Dignitaries and business leaders also participated in the March; notably, Israeli Consul Daniel Agranov and Honorary Consul General of Hungary Phillip Aronoff were in attendance, as was Consul Aronoff's wife Lynne, who serves as a commissioner on the Texas Holocaust and Genocide Commission. Paul Sarvadi of Insperity, Inc., and his wife, Dr. Victoria Sarvadi, recent author and founder of The Nathaniel and Bethany Center, served as key supporters of the March of Remembrance again this year.
Besides remembering those who perished in the Holocaust and honoring those who survived, those who served as liberators, and those who rescued members of the various groups targeted for persecution, March of Remembrance events educate the public to recognize the signs of impending genocide and engage hearts to say "Never again!," not only in the face of modern-day anti-Semitism, but also in the face of prejudice and persecution of any people group.
The March of Remembrance is a memorial walk taken annually since 2007 on Yom HaShoah (Day of Holocaust Remembrance) to "honor, educate, remember, & engage". We choose that day as a clear sign against anti-Semitism and because it is a powerful symbol of what happens when people remain silent about indifference and prejudice. The March of Remembrance is an American response to the March of Life (Europe). There will be a May 13-15th 2018 March of the Nations in Israel next year. Stay tuned for tour details. The next Greater Houston area Marches of Remembrance in Houston will be on Saturday, April 14th 2018 and Sunday, April 15th 2018
http://www.marchofremembrancehouston.org
http://www.marchoflife.org
http://mon2018.com/
https://www.facebook.com/MarchofRemembrance
https://www.facebook.com/HGORHARBOR/