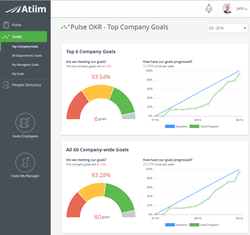 "The exceptional sales and user growth we continue to achieve is a result of listening to our customers and solving a problem in the market," said Zorian Rotenberg, Atiim's President and CEO.
Boston, Massachusetts (PRWEB) April 27, 2017
Atiim, (pronounced "A-team"), the innovative market leader in enterprise goals and continuous performance management solutions for high-performance companies, continued to experience extraordinary growth in every area of its business in the first quarter of 2017.
Atiim's SaaS performance acceleration platform is based on Atiim's iinnvative 2-in-1 unified and integrated enterprise goals management and continuous performance management solution. Customers use Atiim to set and track their business objectives across their organizations, align across all their teams, establish clear and measurable performance indicators, and manage the company in an analytical and data-driven manner.
Q1 was an outstanding quarter on many fronts:

Total Annual Recurring Revenue (ARR) in Q1grew 95% in Q1 2017 over Q4 2016.
The month-to-month average growth in recurring revenue was 29%.
Average Annual Contract Value (ACV) jumped 47% reflecting a continued growth in corporate customers.
Number of global corporate customers grew by 63% and there was another significant surge in registered users, which grew by 197% for the second quarter in a row.
"The exceptional sales and user growth we continue to achieve is a result of listening to our customers and solving a problem in the market," said Zorian Rotenberg, Atiim's President and CEO. "Our customers need to align everyone and manage all of their teams in a data-driven way to track measurable results. The simplicity combined with the power of Atiim's solution is the driving force behind the substantial revenue growth we are seeing."
These results reflect customer satisfaction with Atiim's value proposition that goes beyond just performance management to performance development and acceleration. With its increasing momentum, Atiim is establishing itself as the mid-market's top enterprise goals and ongoing performance management SaaS platform.
Highlights of Atiim's progress include:
Innovation: Atiim was the first-ever to bring to market the innovative and ground-breaking next generation SaaS solution that unifies and integrates 2-in-1 enterprise goals management with continuous performance management in a single product.
Product Milestone: Atiim released new Winter'17 product updates to its Pulse OKR v.2 Goals Management SaaS with 12 new features.
Customers & Industries: Atiim grew its customer base internationally which come from different industries including: finance, medical services, distribution, manufacturing, building/construction, technology and non-profit too.
Awards / Honors: while named one of the Top Enterprise Goals Management technologies for enterprises in TalentCulture HR Technology Trends, Atiim also gained 5/5 rating from customers and users on G2Crowd, a leading software review site.
For a live demo and more information about the Atiim, please visit here.
About Atiim Software
Atiim transforms the way mid-market organizations and their people align and empowers them to revolutionize how they work together to achieve maximum performance and results. Atiim invented a 2-in-1 unified and integrated ongoing performance management and OKR (Objectives and Key Results) goals management platform. To address today's challenges that organizations of all sizes face with setting clear goals, aligning teams, and improving performance and results, Atiim is pioneering a new level of Performance Acceleration. Atiim's breakthrough SaaS solution enables growing companies to maximize performance and business results – it is an innovative and integrated solution for setting business objectives, aligning teams to corporate goals, having regular two-way employee feedback, measuring employee engagement, and tracking people analytics. Learn more about Atiim Software at http://www.atiim.com.
Web Links: