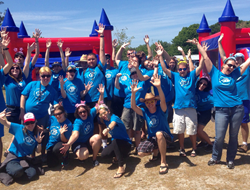 I would like more people to have a better understanding of me and others on the autism spectrum.
Lee, MA (PRWEB) April 28, 2017
Each April, CIP students nationwide volunteer at multiple Autism Awareness Month events across the US. The events are uniquely designed to shine a light on autism awareness and acceptance around the globe.
CIP (College Internship Program) is a national transition program for young adults with autism and learning differences. Students at each of their five locations volunteered at autism awareness events in their local communities, wearing smiles and bright blue Autism Awareness T-shirts.
In California, CIP Long Beach students volunteered at Thinkers 4 Autism, a new event designed for children with autism. Volunteers assisted with a special sensory play area, made crafts, and taught children how to play games.
"I would like more people to have a better understanding of me and others on the autism spectrum, which is why I support Autism Awareness Month," commented Matthew, a student at CIP Long Beach with autism who volunteered at the event. "I'm very outgoing, but I'm sometimes socially awkward and I take things literally."
In Pittsfield, Massachusetts, CIP Berkshire students hosted a film festival at the Spectrum Playhouse. The event featured the premier of an original mystery thriller produced by CIP students entitled "What Defines You."
"We were able to create a movie that felt well-earned and strong," commented student Adam Myers, screenwriter for the film. "The workshop was filled with wonderful people, all committed to the movie," he continued.
CIP Berkeley students and staff had a blast volunteering at EdRev (Education Revolution) at AT&T Park in San Francisco. EdRev is an annual event that celebrates learning differences with a "Day To Think Differently. CIP student Jake Luba teamed up with other EdRev volunteers to assemble gift bags and felt it was a worthwhile experience. "Every possibility comes with the opportunity to make a difference," Jake commented. CIP Students also helped set up the exhibitor area and hung photo displays of people with disabilities.
"Our students enjoy pitching in at these special events geared for people on the autism spectrum," stated Dan McManmon, President of CIP. "As they volunteer their time in local communities, our students demonstrate first-hand how people with autism and other learning differences have amazing gifts and abilities," he remarked.
Several of CIP Brevard's students in Melbourne, Florida kicked off Autism Awareness Month by volunteering at the Brevard PALS Family Festival. Team CIP helped with art projects, Lego building, and a special petting zoo.
CIP's Academic Coordinator Ryan Therriault was impressed with how confident one of her students became when interacting with children in the petting zoo. "He read their body language to see if they would be comfortable holding an animal and adapted his approach to each child's comfort level," Therriault commented.
In Indiana, CIP Bloomington students volunteered at Ivy Tech's Transition Fair for people with autism and other disabilities. Students took part in civic duties as they distributed information and worked to develop new relationships within the community and promote autism awareness. "I enjoyed the volunteer process of helping people sign in and answering all their questions," commented student Robert Goldkamp.
The CDC estimates that 1 in 68 people in the US are diagnosed with autism. Each year 50,000 students with autism graduate from high school. Many of these teens and young adults need comprehensive support as they transition to college, the workplace and independence.
For more information about CIP's year-round and summer programs, visit http://www.cipworldwide.org or call 877-566-9247.