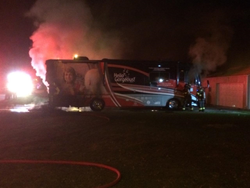 Becker said, "These mobile Day Spas are a huge part of who we are and help us when our recipients can't make it to a partnering salon."
Washington DC (PRWEB) April 26, 2017
In 2014, Monaco Coach donated one of their 36-foot Holiday Rambler RVs to Hello Gorgeous of Hope, Inc. a national non-profit dedicated to providing complimentary make-over experiences for women battling cancer. On April 14, 2017, the non-profit was devastated when they saw their RV on fire and learned it was a complete loss. Executive Director, Kim Becker said, "Faith, our donated RV, was a part of our family. She has blessed so many women with a comfortable, private space to receive the specialty services that we offer them. We didn't have the ability to purchase the RV on our own and so when it was donated we were so grateful. We feel beyond blessed for having it all these years. But we know God has a plan for us and He knows how to turn the tragedy into a blessing. We look forward to seeing what God is going to do next!"
Although the non-profit partners with salons around the country, in certain areas, the mobile Day Spas are used to accommodate the surprise make-overs. Becker said, "These mobile Day Spas are a huge part of who we are and help us when our recipients can't make it to a partnering salon." The motorhomes allow for the Hello Gorgeous! experience to be curbside, at the convenience and security of the recipient's home. The mobile Day Spas are also used to demonstrate the non-profit's concept at events, national beauty shows, and at other cancer-supporting venues.
The RVs, HOPE and FAITH, are fully functional salons with a facial and pedicure area, nail table, shampoo bowl and a private area for haircare, head shaving, wig-cutting, makeup application and the like. They truly are rolling palaces for our Gorgeous Women.
Hello Gorgeous! of Hope Inc. has been serving communities around the U.S. for over 10 years. The non-profit was created to: strengthen the confidence of women who have treatments; empower them; and help them to feel beautiful in their own skin. Hello Gorgeous! has helped about 1000 women across the U.S. and they currently have nine states offering the Affiliate Salon experience.
Kim Becker has received the Mom`s Choice Award for her first book, "Hello Gorgeous!: A Journey of Faith, Love and Hope", published by Corby Books. She is also the 2014 Mutual Bank Better Life Award finalists and the American Cancer Society 2014 Coaches Verses Cancer Night of the Stars Inspirational Award winner. Kim Becker has been married for 21 years and lives in Indiana with their 14-year old son, Seth and a pug named Sam.
If you would like more information about Hello Gorgeous! of HOPE, Inc contact 855-434-3556, or email hellogorgeousin(at)sbcglobal(dot)net. You can also log onto the website at http://www.hellogorgeous.org. 
###