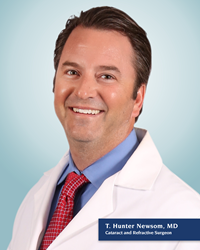 Newsom Eye is excited to reduce the amount of cornea transplants needed by offering Corneal Collagen Cross-Linking (CXL) to treat keratoconus.
Tampa, FL (PRWEB) April 27, 2017
For patients diagnosed with keratoconus, a new treatment option is now available in Tampa. Newsom Eye, with locations in Sebring and Tampa, is excited to announce that it is now offering Epi-On Corneal Collagen Cross-Linking (CXL, C3-R, CCL) for treating keratoconus. Newsom Eye is able to offer this new treatment by being a part of investigational research with FDA Institutional Review Boards (IRB) with ophthalmologists throughout the East Coast to advance this important research and reach FDA approval.
Keratoconus is an eye disease that causes the cornea to become thin over time, and in some patients, the disease can cause the cornea to bulge or become cone shaped. Corneal Collagen Cross-Linking (CXL) has been proven to slow or even stop the progression of keratoconus. At Newsom Eye, the doctors offer a newer form of cross-linking called Epi-On. This new procedure allows for a much faster recover time with less discomfort over traditional cross-linking procedures that remove the epithelial layer. In addition, the cross-linking procedure performed at Newsom Eye typically takes five minutes versus 30 minutes as with other methods of performing the procedure.
The CXL Procedure
The collagen cross-linking treatment is an outpatient procedure performed in the doctor's office. First, patients will be given anesthetic (numbing) eye drops to prevent pain or discomfort. Specially formulated vitamin B2 (riboflavin) eye drops are then instilled in the eye. The doctor will check your eye to make sure that the riboflavin drops have saturated the cornea so that the treatment will be effective. Next, the patient will relax in a reclining chair and look up at a soft blue ultraviolet light during the treatment. This light "activates" the riboflavin, which causes the cross-linking of the collagen fibers to occur.
Cross-Linking Effectiveness
In the past, in addition to wearing hard contacts, many patients with progressive keratoconus had to undergo a cornea transplant. However, clinical studies have shown that the majority of patients treated with Collagen Cross-Linking (CXL) have the progression of keratoconus slowed or even stopped. More than half of these patients had improved vision following the treatment.
The earlier the disease is treated, the better the results. If cross-linking is performed early it may be possible to prevent the signs and symptoms of keratoconus in some eyes with "pre-clinical" keratoconus.
T. Hunter Newsom, MD, Founder and Medical Director of Newsom Eye said, "Newsom Eye is excited to reduce the amount of cornea transplants needed by offering Corneal Collagen Cross-Linking (CXL) to treat keratoconus. In addition, offering Epi-On CXL in a fast five minute procedure allows us to improve patient comfort and provide a faster visual recovery."
Collagen Cross-Linking Benefits

Slows or Halts Progressive Keratoconus
Typically Requires Only a Single Treatment
No Injections or Stitches Required
Fast Recovery
For more information about Epi-On Corneal Collagen Cross-Linking (CXL) at Newsom Eye, please call 813-867-4500 and ask to speak to our CXL Coordinator or visit NewsomEye.com.
About Newsom Eye
Founded by T. Hunter Newsom, MD, Newsom Eye is one of the leading multispecialty eye-care practices in central and west Florida, providing patients with NEWsom EYES!
Newsom Eye's mission is to deliver top quality physicians and surgeons, supported by the most advanced research facilities and technology, while emphasizing customer care. Newsom Eye offers comprehensive eye care, including routine eye exams, Newsom Custom LASIK, laser cataract surgery, treatment of the cornea and retina, glaucoma treatment, as well as optical and audiology services.
All surgeries are performed in ambulatory surgery centers. These ambulatory surgery centers hold Medicare-deemed status through accreditation by the Accreditation Association for Ambulatory Health Care (AAAHC), which is the highest level of nationally recognized standard of care for outpatient surgery centers.
Newsom Eye has received numerous accolades, including "Best Eye Surgeon" by Tampa Tribune's "Best of the Bay" and Sebring's Highlands Today's "People's Choice" awarded Newsom Eye with "Best Eye Surgeon" and "Best Eye Clinic."
To schedule an appointment, call (813) 908-2020 or schedule online at NewsomEye.com.