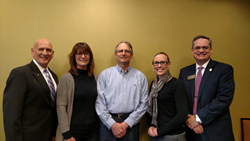 CEO John McCain said, "We are always thankful when new board members accept our invitation to be a part of our team. These community leaders donate their time and expertise which enables us to move our mission forward in powerful and life-changing ways."
Hagerstown, MD (PRWEB) April 26, 2017
Horizon Goodwill is pleased to announce the addition of five new board members: Sandra Hamilton, Aaron Peteranecz, Tina Nash, James Robertson, and Bonnie Winders. CEO John McCain said, "We are always thankful when new board members accept our invitation to be a part of our team. It is a very time-consuming prospect to be on a board, and these community leaders donate their time and expertise which enables us to move our mission forward in powerful and life-changing ways."
More about the new board members:
Sandra Hamilton is the Executive Director of Berkeley County Development Authority. She holds a B.A. from Shepherd University, and she is a member of the Martinsburg Rotary Club.
Aaron Peteranecz is President of the Design Method Group, LLC. He holds a B.A. from the Maryland Institute College of Art. He has a Master of Architecture Degree from Catholic Universities of America. He is a member of the Hagerstown Rotary Club and St. James School Alumni Council. Aaron is also a board member of the Humane Society of Washington County.
Tina Nash is CEO of Nash Homes 4U Real Estate and a retired Firefighter. She is a member of the PenMar Association of Realtors and Maryland Association of Realtors. She holds a B.A. from the University of Maryland and is an Alumnae of Hagerstown Community College.
James "Snake" Robertson is the Training Director for Western MD JATC. He is a graduate of the National Training Institute at the University of Tennessee. He is Chairman of the Chamber's Education Committee, President of Allegany County Building Trades ED Foundation, Chair of the Program Advisory Commission for a local Advisory Council and a member of the Western Maryland Workforce Investment.
Bonnie Winders is an Attorney for her own business, Bonnie Winders, LLC Esq. She holds a B. S. from the University of Maryland and a Juris Doctorate from the University of Baltimore. Bonnie is a member of the Maryland Bar Association and the Washington County Bar Association.
Additionally, five board members have finished their term. The outgoing board members include Heather Guessford, Norma Kolson, Mike Zampelli, Nicole Alt-Meyers, and Stuart Czapski. McCain said, "I cannot say enough about how much these board members have given to our organization. We appreciate each and every one of them for their wisdom, dedication, and time. They have worked tirelessly on our behalf, and we are very grateful for everything they have accomplished for Horizon Goodwill Industries."
About Horizon Goodwill
Goodwill has been rated #1 above the global brands Amazon and Google for the Brand World Value Rankings for 2016. Horizon Goodwill Industries, whose mission is "Removing Barriers, Creating Opportunities," is a non-profit organization dedicated to ensuring that all people have access to employment despite significant obstacles. Horizon Goodwill serves over 5,000 clients annually in a 17 county region that includes parts of the states of Maryland, Pennsylvania, Virginia, and West Virginia. For more information, please visit http://www.horizongoodwill.org