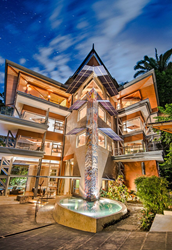 David, it's a real tour de force.
Manuel Antonio, Costa Rica (PRWEB) April 26, 2017
I.M. Pei – creator of the now-iconic pyramid of Paris's Le Grand Louvre, Boston's Kennedy Library, and Washington D.C.'s National Gallery of Art, among others – is an architectural legend. Some even say he's the last living father of modern architecture.
Today, this legend – this architectural genius – turns 100.
Today, American-Costa Rican architect, David Konwiser, remembers his first encounter with his idol – the day Pei became the first guest at Konwiser's family business and first solo project: Villa Punto de Vista.
And this week, Architectural Digest features them both: A living legend on his centennial, and the young architect whom he inspired.
Synopsis of article is as follows:
Ambitious Architecture in the Jungle
Ten years ago, Konwiser embarked on Villa Punto de Vista – a project so ambitious, it would have given pause to a more seasoned architect. But Konwiser – young, green, and at the time, almost recklessly optimistic – embraced the challenge.
His six-story, luxury ten-bedroom concept villa, set within 2.5 acres of private Costa Rican rainforest reserve, embodied the precepts of modern architecture: floating cantilevers and transparency glass, green design and a geometric layout designed to maximize vistas to sea and rainforest.
Two years into the project – and still months from completion – Konwiser's brother, Christien, called with the good news: They had a potential first guest for New Year's week – just two months away.
There was no way they'd be ready in time. The elevator pit was leaking mysteriously. The ballroom had no floor. The pool was still being poured.
And then, Christien dropped the bombshell: "The guest is apparently a famous architect – I.M. Pei. Have you heard of him?"
The I.M. Pei Comes to Costa Rica
There was no question: It didn't matter if there was enough time. They'd be ready.
For weeks on end, the team labored 12- to 18-hour days. Despite the frantic pace, sleepless nights, and sometimes waning morale, they rose to the occasion. By the time I.M. Pei's chauffeured Mercedes rolled into the jungle, they were ready.
Konwiser recalls, "When I first saw Mr. Pei, he was seated in the ballroom. He was looking about, absorbing the details, almost as if he were in a museum. My nerves almost got the best of me."
His nerves were for naught: Pei was gracious, thoughtful and kind. And, as Konwiser soon discovered, he was also impressed.
Villa Punto de Vista: A "Real Tour de Force"
That first night at sunset, Pei inquired as to what part of the villa made Konwiser most proud.
The young architect pointed down to three cantilevered terraces below: "There's not a corner in the villa that isn't a floating cantilever."
And to that, a living legend responded, "David, it's a real tour de force."
These were words that Konwiser would never forget. Words that today, seven years later, on Pei's centennial birthday, Konwiser still repeats with wonder.
Words that help explain why a luxury villa, secreted into the rainforests of Costa Rica, books up years in advance.