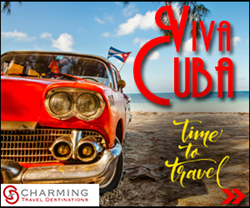 We are very excited about our new relationships with Cuba and look forward to creating great travel experiences for our clients
Los Angeles, CA (PRWEB) April 27, 2017
Charming Travel Destinations announced their new Cuba tour packages at competitive prices, after signing a contract of tourism operations. The tour packages include four to 13 day trips that highlight the best of Cuba such as the Old Havana, Mogote Valley, Las Terrazas, Cienfuegos, Varadero and more.
"We are very excited about our new relationships with Cuba and look forward to creating great travel experiences for our clients," says General Manager Kitty Chung. "Not only are we able to offer great value, but travelers can also count on our high quality service during their stay in Cuba."
To promote travels to Cuba, Charming Travel Destinations also produced a three-part interview with its staff, Joseph Gillin (an avid traveler) and Lemay Rodriguez (former Cuban local). The interviews demonstrate the different perspectives about Cuba as a destination, culture and society. Rodriguez explains why travelers need to experience the beauty of Cuba.
"I would love visitors to see that Cubans are very happy and warm people, extremely proud of the culture, traditions and legacy. I want them to share the love of music and dance that Cubans have, and for them to enjoy one of the most memorable experiences ever, in one of the safest countries in the world," says Rodriguez, former Cuban resident.
Charming Travel Destinations currently offers Glimpse of Cuba, Viva Cuba and Beautiful Cuba & Mexico starting from $1,179. To find more about dates, rates and details, please visit https://charmingtraveldestinations.com/destinations/latin-america-series/
About Charming Travel Destinations
Charming Travel Destinations is a major tour operator in North America arranging exclusive group, independent, student and corporate travels. With over 30 years of knowledge and experience, Charming Travel Destinations promises the best quality performance, service and products in the travel industry. For more information, please visit https://charmingtraveldestinations.com/