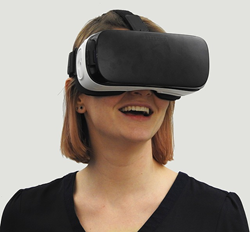 We can generate a photo-realistic kitchen or basement right before their eyes.
Atlanta, Georgia (PRWEB) April 27, 2017
The future of home remodeling is packed into a virtual reality headset. The same devices that have revolutionized the entertainment industry are now being used to provide realistic 3D models of in-home renovations. Equipped with a virtual reality headset, homeowners can preview their newly remodeled home without using a single hammer or nail.
Virtual reality has been widely praised as the next big technological revolution, revamping the way that users interact with the digital world. Much of the hype surrounding virtual reality (VR) has been focused on gaming, but more and more businesses are finding clever ways to adapt to this technology to their own industries, like medical students using VR systems for surgical training.
In the unlikely world of architecture, virtual reality has found its way into a special niche. VR technology is the perfect tool for modeling 3D structures and buildings during the design phase. For the first time, architects can preview different floorplans, different color schemes, or different interior designs without ever having to break ground on a project. From the comfort of a VR headset, home remodelers and their clients can make advanced design decisions at a fraction of the cost.
One Atlanta business is paving the way for VR technology in the industry. As a pioneer in the home remodeling market, Remodeling Expo Center has already used this technology in more than 100 projects.
According to John Hogan, President of Remodeling Expo Center, "Virtual reality is the best visual tool for homeowners to preview a particular design. Just a decade ago, this work was largely left to the imagination. Now we can generate a photo-realistic kitchen or basement right before their eyes. This way, homeowners can see exactly what the finished product will look like weeks in advance."
Utilizing this technology is no easy task, though. Unlike most home remodelers, Remodeling Expo Center has an entire team of high-tech software experts, not just handymen. Staffed with advanced CAD designers and VR software developers, the remodeling company of the 21st century is very different than it once was.
Adapting to the tech-driven marketplace of the future, the home remodeling industry is generating value and excitement among homeowners across the country – and it's all starting with virtual reality systems. While other companies have taken similar steps in this direction, Remodeling Expo Center has rapidly developed one of the industry's most positive reputations in Atlanta and the Southeast.
As the company moves into the summer of 2017, the entire company is hoping to expand the use of its virtual reality system. To learn more about Remodeling Expo Center and their innovative VR technology, visit their showroom in Downtown Roswell or visit them online.
For remodeling and renovation ideas, the Remodeling Expo Design Center is located at 48 King Street, Roswell, Georgia 30075.
Submitted by ClickReady Marketing of Atlanta.