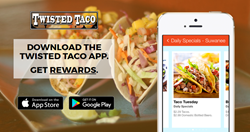 The Twisted Taco App give users virtual punch cards & VIP rewards for every purchase.
Atlanta, Georgia (PRWEB) April 28, 2017
Launched in April 2017, Twisted Taco has released a new mobile app to enhance the customer dining experience. The popular Tex-Mex restaurant chain has quickly expanded in recent years, growing from a local watering hole to a national brand with locations across the country. As the company has expanded, it has attracted a growing base of food enthusiasts who enjoy fresh ingredients and unique taco recipes.
The company's new mobile app, available on iOS and Android devices, is packed with tons of exciting features to drive customer engagement. The app's functionality is designed to complement the in-store dining experience, which means that users can seamlessly access the Twisted Taco Rewards program from their phone.
Twisted Taco App Features
The Twisted Taco App now offers virtual punch cards and VIP coupons for returning customers. When a user reaches a certain number of visits or purchases, they can redeem their points for free rewards like appetizers or drink specials. Because the company has multiple locations across the country, these special offers are mostly transferrable from one location to another – giving users the opportunity to keep track of their rewards directly in the app.
App users also get special access to coupons and limited time offers with push notifications. These reminders will notify users when they have enough credits for a free reward or when they otherwise qualify for special offers, like after they post a photo of their food on social media. These incentives are designed to improve customer satisfaction and give long-term benefits to the company's most committed diners.
In addition to Twisted Taco Rewards, the mobile app also features updated drink and food menus. Customers can easily preview their favorite lunch items and daily specials, then share the menu with friends and family. Best of all, users can easily find the closest Twisted Taco location with the built-in restaurant finder, which integrates with Google Maps and Apple Maps.
With events like Cinco de Mayo around the corner, users can also download the app to preview upcoming events. Because the restaurant boasts an upbeat, casual atmosphere, app users can see when their Twisted Taco location is hosting holiday celebrations or live music on the patio. The app serves as single point of access for everything related to the Twisted Taco community.
Casual Dining Gets More Exciting
From the time Twisted Taco was established in 2002, it has always been about more than food. It's about sharing an experience with friends and family. With a cold drink or fresh taco in hand, Twisted Taco is the neighborhood restaurant to enjoy great food and a relaxing atmosphere at a great price. The company's new mobile app is meant to make the casual dining experience even more satisfying and affordable.
For more information about the new Twisted Taco app, download it today on the App Store or Google Play and be sure to stop by the nearest location for special offers.