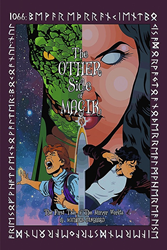 "['The Other Side of Magik'] is an accomplished light fantasy that from the outset is above most of its contemporaries. Author Michael Lingaard has done what so many writers fail to do; he understands his own creation." - Book critic Nathan Brazil
(PRWEB) April 27, 2017
"The Other Side of Magik: The First Tale of The Mirror Worlds" is one of those "what if" stories that takes readers on one heck of a roller coaster ride.
What if:

History and nature took a slightly different path?
Harold won the Battle of Hastings in 1066?
Dragons and werewolves are real?
Electricity doesn't work but magic does?
Imagine a 21st-century England populated by steam buggies and airships, parallel universes, wizards, and strange creatures. Envision a world where magic is what binds society together. This 430-page novel is brimming over with an alternative reality that expands the mind, especially for a 16-year-old burgeoning science student named Garreth, and his double in the parallel universe named Danny.
Can the Wizard Emeritus save Danny from being inhabited by the soul of an evil Mandrake, and can he also return Garreth and Danny to their rightful worlds?
"In recent years, there has been a parade of writers following in J.K. Rowling's enormously successful footsteps. Most of them don't come close, and many of the books they've produced are a waste of good trees. Happily, 'The Other Side of Magik' is not among the also-rans. It's an accomplished light fantasy that from the outset is above most of its contemporaries. Author Michael Lingaard has done what so many writers fail to do; he understands his own creation. As a result, his story comes across as well conceived and highly credible. The action takes place mostly in Angland, on an alternate Earth on the other side of the mirror, where "magik" is a reality, and physics does not permit the development of electrical power … The story centres on two teenage boys, Danny Royce, a disaffected wastrel from our reality, and Garreth Royal, a budding wizard who has just failed to make the grade. Both become unwitting victims of a devious, and ingenious magical body-snatch." – Nathan Brazil, critic, sfsite.com
"Be ready for anything to happen! This imaginative science fiction novel is the first book in a trilogy. We are very proud to be the publisher." – Robert Fletcher, CEO of Strategic Book Publishing and Rights Agency
About the Author: Born in Manchester, England, Michael Lingaard spent his formative years in New Zealand, and now works as an engineer in Australia. He has written three other science fiction novels, is an avid motorcyclist, and recently rode from Chicago to Los Angeles on the famous old highway Route 66.
THE OTHER SIDE OF MAGIK: THE FIRST TALE OF THE MIRROR WORLDS (ISBN: 978-1-68181-999-0) is now available for $22.95 and can be ordered through the publisher's website:
http://sbprabooks.com/MichaelLingaard or at Amazon.com or Barnesandnoble.com.
WHOLESALERS: This book is distributed by Ingram Books and other wholesale distributors. Contact your representative with the ISBN for purchase. Wholesale purchase for retailers, universities, libraries, and other organizations is also available through the publisher; please email bookorder(at)sbpra.net.